Members who paid fees during the 2013-2014 GFS Sailing Season on their own behalf or on behalf of themselves and their family group will by now have received an email inviting them to renew their membership(s) for the coming 2014-2015 Sailing Season. The renewal process will entail signing into and using the same online payment facility members used to renew last year.
Please note there has been a $10 increase in membership fees this year. Yachting Australia increased the fee we are charged for each member attached to the Club by that amount.
As a reminder of the steps involved to complete a membership renewal online, they are:
1)    Access your GFS Membership Home Page here
2)    Complete entry of the 2014-2015 Season Membership Fees & Charges options
Click the Blue "2014-2015 Season Membership Renewal" button at the top of the Membership Home Page screen and make the fee and other information selections appropriate to you.
3)    Enter your credit card details in the Registration page
We only accept Mastercard and Visa credit card payments.
4)    Receive payment confirmation
An email will be sent to you confirming the receipt number and amount paid.
A more extensive set of notes to assist those who may have less experience with online payment arrangements can be found here.
Members who encounter difficulty or need one on one assistance with this renewal process should contact the GFS Membership Secretary via the Committee Contact page here.
We've changed the menu bar slightly to create space for a new website feature – a GFS member exclusive classified Ad facility.

This is a free service for GFS Members. In much the same way as members can presently place a paper advertisement on the bulletin board in the Clubhouse now you can place a notice to members online.
Skippers may place an ad seeking crew members. Crew members can place an Ad seeking to secure a crew position on a GFS Club yacht. Or if you have an item of sailing paraphernalia to sell, this is the place to let other members know.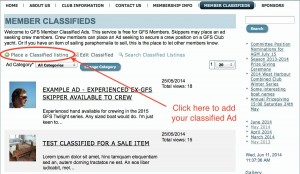 To add a new classified Ad:
Step 1. Choose the "Member Classifieds" menu item second from the right on the main menu bar and then click the "Place a Classified listing" link located as shown in this screen image.
Step 2 Select the classified category you wish to list under from the drop down menu. Presently there are only three categories available: 'Crew Wanted'; 'For Sale; and 'Looking To Crew'. Click the 'Continue' button.
Step 3. Fill in the form with your Ad information. When finished click the 'Continue' button. Note you will need to fill in the simple maths question at the bottom to show us you are human and thwart spam bots.
Step 4. Upload any images you would like associated with your Ad. You can upload up to four images. Click the 'Finish' button and you are done.
Once your Ad is ready it won't immediately appear on the site. The following security provisions must first be satisfied.
A verification email will be sent to you which you must respond to in order for us to verify your contact email address. Your Ad will remain disabled until you verify your address.
All listings must first be approved by a GFS club officer before they will be published. Only after this officer has approved your ad will it become visible on the site.
If you uploaded images with your Ad they will also not show up until a Club officer has approved them.
Should you have any queries regarding how to use this service or any other query or comment you may have about it, please contact the GFS Membership Secretary via the "Contact Us" facility in the main menu bar above.