Archive for September 2016
Skippers or their representative from 75 yachts attended the briefing on Wednesday September 28.
Important information related to maritime regulations, safety and obligations when racing at GFS were discussed.
If you were unable to attend or wish to review the presentation it is on the Yachts  Page or can be found here.
As always the camaraderie of GFS members was evident by the robust discussion following on the crowded 'Deck of Knowledge'.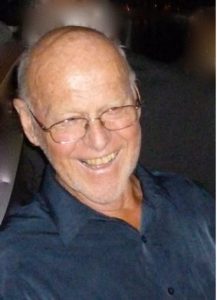 With great sorrow I advise that our current club Patron, Hans Kannegieter, passed away this last weekend on September 18.
After over 40 years of membership at GFS Hans was elected Patron at our Annual General Meeting this year. He accepted the role with great grace and courage and just a few of us knew the effort he made to be able to attend the Annual General meeting and pass the vote of thanks to the retiring Patron John Notley. I am pleased that I have kept a copy of Hans' speech on file.
Hans learnt his sailing in Holland and first sailed in Sydney in the early 50s with business friends. In the 1955 – 1956 season Hans sailed with Keith Tierney, Alan Grundy and Arthur Foster in the 16 footer Zest. The 60's were very active sailing times for Hans and he spent time in 18 footers, sailed with John Kennedy in the Javelin Pan Pacific Championships in Fiji, sailed with Geoff Ottewill in Ynglings at RSYS and sailed in 16s at Middle Harbour with Keith Tierney and others.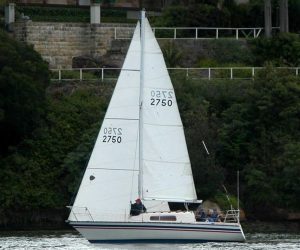 In the 70's Hans joined GFS and sailed with Geoff Ottewill and Harvey Porter on the J24 Grott.
Hans and John Hurlstone owned and sailed the Bonbridge 27 (2750) Force Four for many seasons until John acquired his own Bonbridge, Firefly. Hans continued to be a keen competitor in Twilight Orange Division with his great mate John Wood, son Tim and other crew members.
Hans will be well remembered at the club and will be listed on the soon to be commissioned honour board for GFS Patrons.
Our sincere condolences go out to Beth his wife, his family and good friends for their loss.
David Edmiston, Commodore
At last Summer-like conditions. Course 11A proved a little short as the wind came in a bit stronger than that which was predicted. The results are still provisional and are on the Yachts – Results page.  Finish times have been corrected and yachts are in the correct divisions.  Some housework still needs to be done before the results are official.
However the race highlighted the division of labour required to successfully sail a race at GFS. These responsiblites are –
Skipper – initially pay money and buy a boat and then look at the divisions and start times to get them right.  These are posted on the GFS web site. Just to confuse, Saturday Series Divisions are different to Down Harbour Divisions.
Navigator – read the course sheet carefully to understand that words listed in order are marks which need to be actually rounded in that order.  Also recognise that a word with (P) next to it means leave the mark to Port, if there are no (P)s it means leave them to starboard (There were no (P)s in Spring race 2).
Crew- be nice to the skipper and keep a look-out especially for little stuff on the water like Flying Elevens. Give constant advice to the skipper; both positive and negative.
Despite some teething problems all went swimmingly!
Please look at the web site for information at least once a week.
Just a reminder that Saturday Divisions are very different from last year. Some boats on the list may not be entrants.
| | | | | | | |
| --- | --- | --- | --- | --- | --- | --- |
| DIV | BOAT NAME | SAIL NO | | DIV | BOAT NAME | SAIL NO |
| Blue | Forte Forever | 44 | | Green | Alloyns-Y | R158 |
| Blue | Solitude | 77 | | Green | UMZIMKULU 2 | 28 |
| Blue | Spike | 196 | | Green | FLAIR | 1531 |
| Blue | Foxy | 758 | | Green | GWHIZZ | 3425 |
| Blue | Jester | 872 | | Green | JOKA | 3608 |
| Blue | Saints III | 1106 | | Green | Peach Teats Velocity | Y868 |
| Blue | BEWARE OF THE DOG! | 2501 | | Green | SPEEDWELL | 4113 |
| Blue | Irukandji | 6358 | | Green | Paca | 6694 |
| Blue | SAOIRSE | 7049 | | Green | Young Obsession | 6370 |
| Blue | EGGSHELLS | 20 | | Green | EVO | 5837 |
| Blue | CHLOE | 762 | | Green | STARELAN | 7051 |
| |  Blue Chip |  3604 | | Green | WIND CHARMER | R7 |
| | | | | Green | HASTA LA VISTA | 7129 |
| | | | | Green | MISTRESS | M101 |
| | | | | | | |
Well done to the hardy skippers and crews who ventured out to race in DH 1.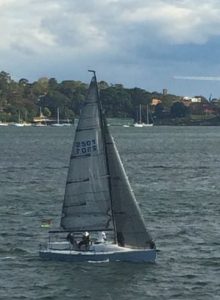 The wind funnelling along the Lane Cove River resulted in a delay to hopefully allow it settle (??) and then a lively start.
The revised divisions caused some initial confusion but all yachts managed to sail in their assigned groups, albeit requiring a couple of returns to correctly re-start.
Results have been updated and the couple of strong gusts which blew through the computer have disappeared with the meeting of great minds on Tuesday night.  Results are on the Yachts page.
After the start Flair returned to the safety of Tambourine Bay! However, watching the fleet sail home past Greenwich wharf showed not only the wind strength but the excellent sailing ability of skippers and crews in puffy conditions.
The BOM and Seabreeze forecasts proved accurate and the resulting wind signaled the end of the winter doldrums and the start of the 2016 – 2017 Saling Season. Pity it had to begin with an abandoned race.

When they were raised the N over A flags, which I hope survived, were almost blown off their halyard as would have any small dog chained to the Deck of Knowledge or the pontoon with tsunami like waves breaking over it
Hopefully next Saturday will allow an easier start to the season for the Down Harbour Series. Divisions will be emailed later in the week to yachts which have registered for the series.