Archive for December 2017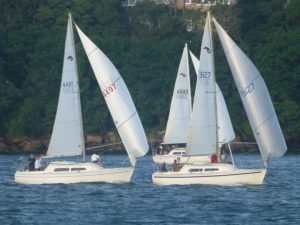 The Twilight duty roster has been updated again (December 8, 2017). Please check the roster yet again to see if your boat is rostered for duty.
It is important to attend if you are rostered to share the load on the night.
The updated roster is on the Yachts Racing Information page or  Yachts Twilight page  or  HERE
Next Wednesday December 6 is the annual visit of Youth Off the Streets to GFS. Please read the following message to ensure that all runs smoothly on the night.
"We are asking yachts that normally tie up alongside before the racing to keep the two sides of the pontoon clear from 5:00 pm so that members can launch tenders from the sides if need be. This will allow yachts clearer access to come alongside to pick up visitors.
We want to take extra care with our visitors and keeping the pontoon readily available will help.
Also a reminder to skippers to offer the visitors life jackets if they are not strong swimmers."