Archive for December 2017
It is with sadness that we note the passing of 'Bill' Wilson.  Bill along with his brother Tim took on the responsibility of laying the start/finish marks for twilight races and the custodianship of Pegasus.
Bill's death notice appeared in today's paper.
WILSON David Paget Avonmore (Bill)
Passed away on Monday December 18th, 2017.
Devoted and much loved husband of Lilly, dearly loved by his brothers Tim and Peter, and in-laws of Wilson's and Markos families including many nieces and nephews.
Bill's Funeral Service will be held in the East Chapel of the Northern Suburbs Crematorium, 199 Delhi Road, North Ryde on THURSDAY (December 21st, 2017) at 3.30 pm.
This year the maxi yacht Infotrack (sail number SYD 1000) is sailing under the GFS banner to Hobart. Infotrack, previously Perpetual Loyal, is now owned by regular GFS Twilight competitor Christian Beck, his brother Darren another GFS regular is also part of the crew.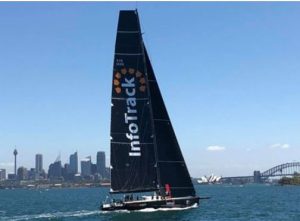 Perpetual Loyal was rewarded last year after modifications were made by breaking the Sydney Hobart race record set in 2012 by Wild Oats XI, by four hours 51mins and 52secs, finishing in the time of 1 day 13hrs 31mins 20secs and culminating in second overall and second in Division 0.
We wish both Christian and Darren all the best for a safe, fast and successful race.
The position of Infotrack can be followed throughout the course of the race on the Rolex Sydney Hobart Yacht Race site or here.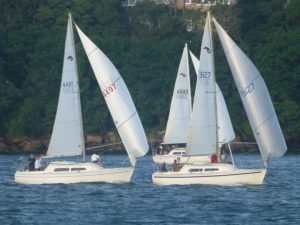 The Twilight duty roster has been updated again (December 8, 2017). Please check the roster yet again to see if your boat is rostered for duty.
It is important to attend if you are rostered to share the load on the night.
The updated roster is on the Yachts Racing Information page or  Yachts Twilight page  or  HERE
All yachts registered at GFS are invited and eligible to sail in the West Harbour Summer Series.
Races are held every second Sunday commencing on January 14, 2018.
Please see the link to the 2018 West Harbour Summer Series Sailing Instructions.
We have also created Course Maps.
The list of entrants and start times list of entrants and the allocation of Divisions and Start times can be found via the 'Results' section of the Balmain Sailing Club's website.
If you intend competing and your boat is not listed, please enter using Top Yacht via the Balmain Sailing Club's website, or by clicking here by no later than 10.30am Sunday.
The West Harbour Summer Series will consist of 6 Pursuit Races.
There is no entry fee payable for competitors who have paid their full season race fees at the Drummoyne Sailing Club, Greenwich Flying Squadron and the Parramatta River Sailing Club.
Next Wednesday December 6 is the annual visit of Youth Off the Streets to GFS. Please read the following message to ensure that all runs smoothly on the night.
"We are asking yachts that normally tie up alongside before the racing to keep the two sides of the pontoon clear from 5:00 pm so that members can launch tenders from the sides if need be. This will allow yachts clearer access to come alongside to pick up visitors.
We want to take extra care with our visitors and keeping the pontoon readily available will help.
Also a reminder to skippers to offer the visitors life jackets if they are not strong swimmers."