Sydney's weather turned it on again! Wind, rain, sun, no wind, more wind and sadly many skippers and crews were disappointed as they were dressed as if they also expected snow. Anyway it's a healthy lifestyle to venture out into the elements, hardy souls as we are.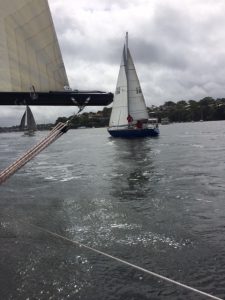 In Blue Division 1 Irukandji sailed very quickly to minimise their exposure to the changing conditions leaving Foxy, Blue Chip and Eggshells to scrap it out. Eggshells finally pulled the pin as they had a malfunction causing them to lose their main source of shelter. Foxy Four-up made it back behind Irukandji and Blue Chip returned safely after them. Foxy were successful in negotiating the Top Yacht system ahead of Irukandji and Blue Chip.
In Red Division 2 Flair won the start; however, the race is over a longer distance. Hasta La Vista powered away and were ultimately caught by Gwizz. Clovelly Pacific well suited to the conditions also powered their way through the fleet to ultimately return after the Gwizz – Hasta combination. Paca and Umzimkulu again had a good race. On handicap a good win to Paca from Hasta and Flaira.
A reminder that Course 17 requires yachts to leave Cockatoo Island to Starboard (marked by *** on the course sheet) on the way to the finish from Snapper Island.
At last sunny skies and a light relatively consistent breeze saw the fleet heading to their respective rounding marks at Nielsen Park, Shark and Clark Islands. Luckily most of the fleet avoided the tanker's departure from Gore Cove.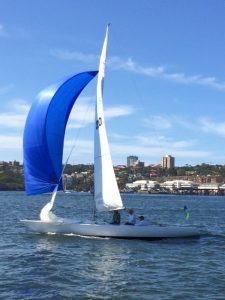 Welcome to Mark Donnelley and crew in Sirocco an Elan 37 for their first Down Harbour race. In the Blue Division race, Flashback were back well ahead of Blue Chip and Hasta La Vista. On Handicap Hasta from Gwhizz and Blue Chip.
In White Forte Forever without kite made it back ahead of Eggshells (pictured) and Speedwell with Speedwell just pipping Eggshells to be second on handicap.
In Red Umzimkulu II powered away to lead the fleet all the way. Paca, Wind Charmer and Joka challenged until Wind Charmer broke away under kite to be back a few minutes after Umzimkulu with Joka a few minutes after.  Handicap results to Umzimkulu II from Wind Charmer and Flair.
Well the weather predictions again proved inaccurate. Originally expecting winds around 10kts a well known wind site actually changed their prediction after the event to be upwards of 25kts. Seabreeze shows the wind recorded yesterday.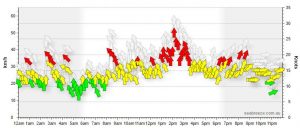 Click on the image to enlarge (Seabreeze)
Given the unstable weather it was decided to start from the club and Course 63 proved very well suited to the actual wind direction and speed.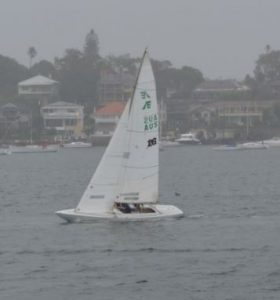 In Blue Division 1 a depleted fleet met the challenge, initially exiting the variable wind directions in Humbug and then the strong gusts which seemed to materialise from nowhere. Foxy sailed well to lead the fleet leaving Eggshells (pictured) and Blue Chip to scrap it out for the minor places on the water. Blue Chip again showed their ability to run under spinnaker in the strong conditions. Scratch and Handicap results were Foxy, Eggshells and Blue Chip.
In Green Division 2 Hasta La Vista led the fleet for the entire race leaving the others to sail as a group for a while until the wind came in and StarElan was able to break away. With gusts upward of 30kts between Longnose Point and Goat Island Flair and Paca were in survival mode. At the end Hasta was well clear of StarElan and Paca. Handicap result to Hasta from Flair and StarElan.
HOSTED BY ROD McCUBBIN OF TOP YACHT.
Rod McCubbin, the creator of Top Yacht, has kindly agreed to host a Workshop and Q&A session at the Balmain Sailing Club on Monday 6th of March, commencing at 6.30pm.  GFS members are welcome to attend.
The BSC clubhouse (and the bar) will be open from 6pm. Address is Water Street. BIRCHGROVE NSW 2041
Participation is FREE OF CHARGE and is open to all sailors, regardless of where you sail, who are interested in the complexities of handicapping.
Please have a think about the questions that you might like to ask in advance. And in particular, give some thought to *What makes a good performance handicapping system?*
ALL WELCOME!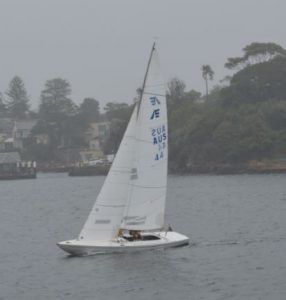 A cordial invitation is extended to owners of eligible Etchells yachts to enter this event on Saturday 22nd and Sunday 23rd April 2017 on Pittwater. The Regatta will consist of six races conducted by the Avalon Sailing Club (ASC).
An interim presentation for Races 1, 2 & 3 will be held at a catered dinner on the Saturday evening at ASC. Bookings are essential. The Don McLachlan Perpetual Trophies presentation plus presentation for Races 4, 5 & 6 will be held after the race on Sunday 23rd April at the Clubhouse.
According to Richie from Eggshells, 'It would be fun to sail an Etchells to Pittwater. But I think we would need a few boats to sail together'. Apparently many Etchells have gone up and down the coast without any problems including Foxy.
10th Don McLachlan NOR and SI.
Wet and grey conditions ensured only the hardiest souls ventured out to contest Autumn Race 3. Course 35 added a few challenges with varying wind conditions around the course.

Sincere thanks to Aaron and Josh who have stepped in to effectively manage the start and finish duties over the last two weeks in the absence of the regular crew who will be back next week. Starts will resume from Pegasus.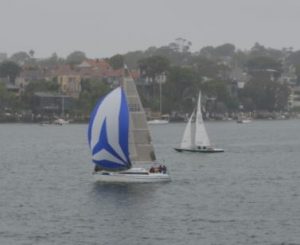 In Blue Division 1 Irukandji made a brilliant start and established a commanding lead early.  Foxy and Blue Chip (pictured), Forte Forever and Eggshells were tenacious in bridging the gap which narrowed throughout the course of the race. At the finish Irukandji were back ahead of Foxy and Forte. On handicap Foxy pipped Irukandji (pictured below) with Eggshells third.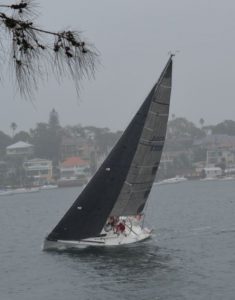 In Green Division 2 Hasta La Vista said bye bye to the remainder of the fleet leaving them in pursuit for the entire journey. Umzimkulu, Joka, Paca and Speedwell kept close and Gwhizz made every effort to catch Hasta.  At the end Hasta from Gwhizz and Clovelly Pacific.  Tana was lost momentarily in the computer.  On handicap Hasta La Vista, Umzimkulu and Joka were well deserved winners and place getters.
Start from the deck and Course 45. The uncertain prediction of late storms didn't deter the fleet. With a new start group to replace the 'normal' crew and the addition of Harvey's dulcet tones there was no possibility of getting the timing wrong. It was much appreciated, as was Harvey's attempt to replace the BOM at the end of the race with a rain arrival time –which proved pretty accurate.
The Mirror fleet from Hunters Hill Sailing club made for a colourful sight on the water and a hazard to navigation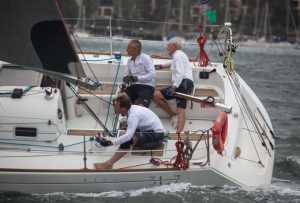 In Blue Division a slow start through Humbug saw Blue Chip establish a commanding lead over the Etchells. They provided a master class in spinnaker handling in the tricky variable conditions to be ahead at the finish. The Etchells group kept close all finishing within a minute. Eggshells grabbed the lead through the computer with Chloe third.
In Green Division the wind at the start resulted in a mixed bag of good and bad fortune as yachts attempted to reach and then pass Onions point. Gwhizz and Flair perhaps had the best exit.  As the race progressed Gwhizz, Umzimkulu, Peachy Teats Velocity (Pictured, courtesy of the James Kearney Twilight collection – see the link above) and Paca had a close tilt for the lead. Speedwell caught up after a slow start to be up with the leaders. Umzimkulu recorded a well-deserved win both on the water and on handicap with Gwhizz back ahead of Speedwell. Minor handicap placings to Paca and Flair.
Please note: Autumn Race 3 will also be a Clubhouse start.
Twilight Fleet Photos
  – on 18 January 2017 photos of the fleet were taken by member James Kearney. To view click
here
.
If you would like a copy of any of the photos they are available for download free of charge. High Resolution images are available upon request, please contact James Kearney at
jkearney@selbornechambers.com.au
Heat wave conditions and conflicting wind predictions resulted in selecting a short course (3) for all divisions. The wind avoided what was predicted by either method and resulted in a good NNE breeze which progressively dropped as the day progressed.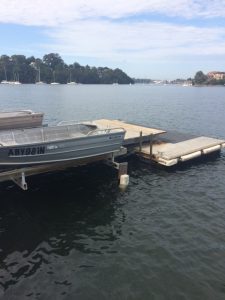 Coupled with the wind there was a large outgoing tide. The pontoon at the club and the ramp were reversed at the top of the tide (pictured).
In Blue Division the final result is provisional and may depend on the outcome of a protest.  On the water Flashback then Irukandji and Monkey Business while on handicap Monkey Business, Hasta La Vista and then Tana.
In White Division the fleet was reminiscent of the golden age of GFS Etchells with 4 the only contestants in the race. On the water and handicap results were the same with Forte Forever ahead of Eggshells and then Chloe. Foxy made a good effort without setting a kite on the long run home from Shark Island
In Red Umzimkulu II led the fleet establishing a good margin with Joka making every effort possible to catch up. Paca sailed consistently to be back next. On handicap Umzimkulu from Joka and Flair.
Please be aware of the heat wave conditions predicted to continue for Sydney with temperatures approaching 40 degrees.
Ensure that there is plenty of fresh water on board your yacht.
Avoid dehydration, use and re-apply sunscreen and wear a hat.
Again a delayed start and a short course 13A due to the uncertainty of the various wind predictions linked to the GFS website. The 10 minute delay proved beneficial as the start saw yachts heading for Goat in a nice breeze. However, the rounding at Goat proved tricky for some in the fickle breeze in the shelter of the island.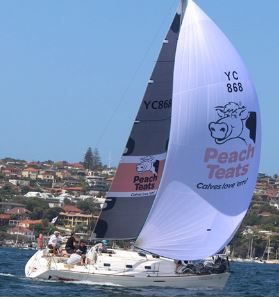 In Blue Division 1 Irukandji powered away to lead the fleet and finish ahead of Blue Chip and Chloe. Jester was rewarded for a good sail being first on handicap ahead of Blue Chip and Chloe.
In Green Division 2 the fleet made a good start until the Goat doldrums came in to play which allowed some yachts to escape and others to park for several minutes. Peach Teats Velocity (pictured) established a good lead to finish ahead of Gwhizz and Hasta La Vista. Handicap results to Paca from Hasta and Flaira.
Although we are not sailing for sheep stations it was good to see a yacht exonerate by completing a 'two turns' penalty after an on water incident. This was much appreciated and would have avoided any possible protest action.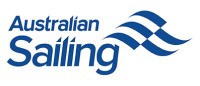 Australian Sailing has announced the 2017 Australian Sailing Youth Team, who will represent their country at the 2017 Youth Sailing World Championship.
Included  in the team for the Boy's skiff (29er) are Henry Larking and Miles Davey (representing Woollahra Sailing Club, NSW).
See previous post success-for-an-ex-gfs-sabot-sailor
This just showed how many races you can have at once Summer Race 6, Mick York Race 4, the GFS Saturday Australia Day race and final race of the Summer Series all in one. Thanks to Harvey Porter for stepping in to do the start and finish duties.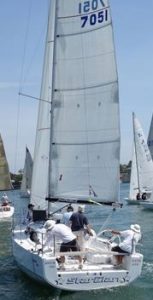 To add to the occasion the Sydney Amateurs Fleet were rounding Spectacle and Snapper Islands and the Middle Harbour Fleet were contesting the Bedlam Cup rounding a mark off the previous Gladesville Hospital at Bedlam Bay. Sure would have been interesting to see some of the Sydney Hobart sized yachts negotiate the narrows of the Parramatta River with a substantially falling tide.
Anyway back to the real world sunny conditions a strong NNE wind gave the GFS fleet a good challenging race. The start from the club was interesting and for the first time in my memory a general recall occurred for the Blue fleet.
Blue sailed course 41 and again the Etchells ended up dominant with Forte Forever, Foxy and Eggshells keeping the same order on the water and in the computer.  Series results to Forte from Eggs and Blue Chip.
Green sailed course 39 (same except missing the final rounding of Cockatoo).  Hasta La Vista and Tana made a break under the huge party boat that suddenly materialised just 100m after our start forcing some to go under and others above the obstruction. Gwhizz again were powerful and eventually gained the lead to be back ahead of Tana and Hasta. Tana scored a well deserved win on handicap from Gwhizz and Flair. Series result to Paca and Flair (equal) from StarElan (pictured).
Next race is Autumn Race 1 and handicaps revert to those at the end of the Spring Series.
GFS again participated as a 'satellite event in the Australia Day Regatta.  2017 marked the 181st regatta which is regarded as the oldest continuing sailing regatta in the world.
The results for our races in order first, second, third were –
Twilight Blue                    Gwhizz, Worlds Apart, French Connection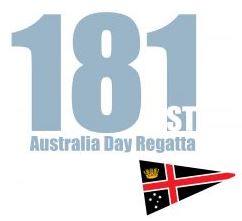 Twilight Green                 Tana, Out of Africa, Streetfighter
Twilight White                  Paca, Joka, Amateau
Twilight Orange               Barubi, L'Atitude, The Saints
Twilight Gold                    Disko Trooper, Gem, Mind/Matter
Twilight Black                   Soundtrack, Sweet Chariot, Dump Truck
Saturday Blue                  Forte Forever, Foxy, Eggshells
Saturday Green               Tana, Gwhizz, Flair
Sunday Laser                   Max Effort, Break Wind, Orinoco
 Sabot   1 Up                     Wildside
 Sabot  2 Up                      Sabotage
Medallions were awarded after the various races for second and third places. If you didn't collect yours they will be in the GFS Sailing Office.
The winners will be invited to attend a presentation at Sydney Town Hall on March 28 to collect their medallions.