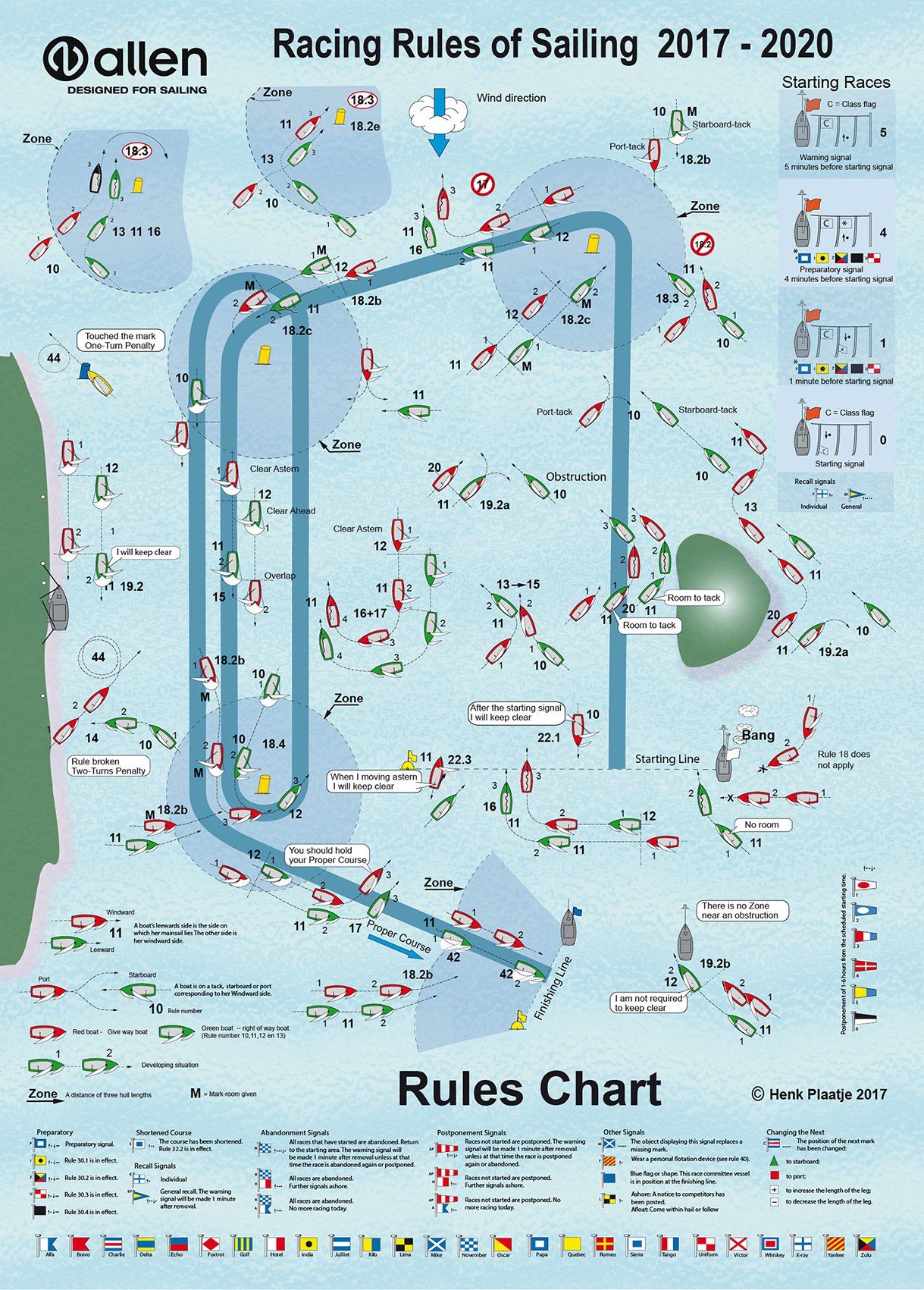 2017-2020 Sailing Rules Presentation
by Lister Hughes (Australian Sailing International Judge)
Venue
Longueville Sportsmans Club (The Diddy)
Corner Kenneth and River Rd, Longueville
Time 7.00pm to 9.00pm
Primary Focus
Pre-start obligations, Continuous obstructions,
Sailing a proper course, Changes to Rule 18.
All financial GFS Skippers and crew members are welcome.
And don't forget…
You must at all times give the keep clear boat – "room, time and opportunity" to keep clear.

Click on this link for some homework prior to the presentation :
Sailboat Racing Rules 2017 by Eric Johnson Sailing National Umpire, Judge Club Race Officer
The 183rd Australia Day Regatta will be sailed on Saturday 26 January 2019
The Australia Day Regatta, proudly acclaimed as the oldest continuously-conducted annual sailing regatta in the world, has been conducted each year since 1837 to commemorate the anniversary of the first European settlement of Australia. Originally known as the Anniversary Regatta, this colourful event is held on Sydney Harbour each year on January 26.
It would be good to see a contingent of GFS yachts sailing in the Harbour Regatta on Australia Day. Entry details, Notice of Race and Sailing Instructions can be found on the ADR Website – here
As well GFS will host our own Australia Day commemorative races for yachts on Wednesday January 23 and Saturday February 2 and for Sabots and Lasers on Sunday February 3.

Well done to the Ausreo crew for their handicap win in IRC Division 4 of the 2018 Sydney to Hobart Yacht Race.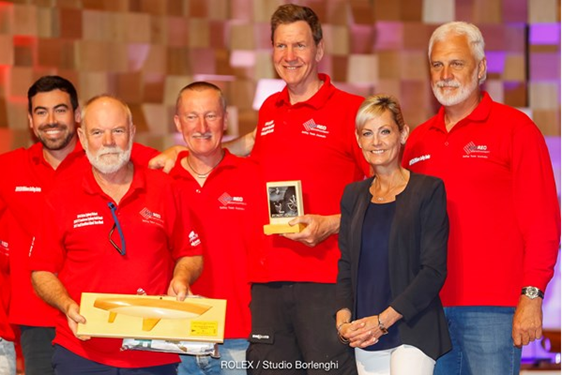 Congratulations to skippers and crews of Ausreo, Infotrack and Jackpot. They have all successfully completed the Sydney to Hobart race and achieved some impressive results
AUSREO   IRC- Div 4   1st;                   ORCi- Div 4     4th;              ORCi      23rd;   Corinthian   5th
INFOTRACK  IRC   12th;                       IRC -Div 0    6th;                 Line Honours     4th
JACKPOT   IRC- Div 4   11th;                 ORCi      45th;                       ORCi- Div 4          13th
Well done Ian, Christian, Rob and crews.
GFS yacht Jackpot now owned by Rob Hale and Matt Gooden is competing in this years Sydney to Hobart Yacht Race.
Ausreo owned by Ian Creak with Jim Lelliott and Paul Atwood aboard is also making the trip to Hobart.
InfoTrack owned by Darren Beck with brother Christian aboard is the third yacht representing GFS in this years race.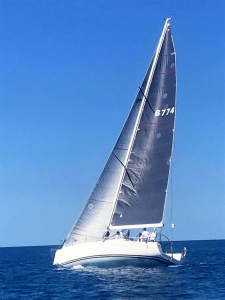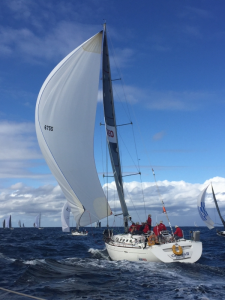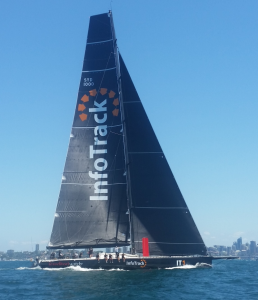 We wish all Crews well for a successful and safe passage to Hobart.
The progress of Jackpot can be followed here, InfoTrack here and Ausreo here
To clarify the situation regarding the Bradleys Head Safe Water Mark (BHSW mark) there have been changes to some Down Harbour Courses.
The BHSW mark is not a mark of the course, but must be passed by leaving it on the required side.
The revised course sheet is here and on the Yachts Page – the changes are in red.
Hope it makes things simpler to interpret.
It is with great sadness that I advise that Keith Tierney our Club Patron, longstanding GFS member and good friend passed away yesterday on December 5th.  He died peacefully at home in the company of his loved ones.
Keith has been a highly regarded member of GFS whose sailing experience and expertise were respected by all. He first learned to sail at the club in 1936 and subsequently raced competitively in skiffs (12ft, VJs and 16ft skiffs) in various clubs around the harbour. He later progressed to yachts, sailed his first (of 15) Sydney to Hobart race in 1950, regularly competed in his own yachts (S&S 40ft and later a S&S 37ft) at the CYC before returning to GFS in 1995 to race his most recent boat Arawa – a Cavalier 28.
A full story on Keith's career on the water can be found on the website at  http://gfs.org.au/wp-content/uploads/2017/11/Keith-Tierney-Patron-Article-v2.pdf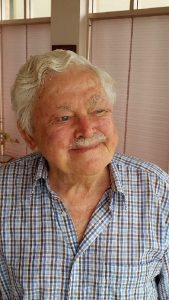 Keith actively participated in club activities and many members have benefitted from his knowledge of sailing tactics, wind and tide.  His knowledge of local conditions was extensive and he was rarely passed by another yacht in Humbug. Along with Harvey Porter he had been setting our Twilight courses for several years and (almost) always got our fleets home safely and in time for dinner!
Keith was elected Patron of GFS in July 2017 and generously continued to support the club and its members in this role. He was a much respected member of the GFS sailing fraternity and will be greatly missed by all of us. On behalf of all GFS members I express my sincere condolences to Keith's wife Judith, his family and many friends
Pam Joy, Commodore
Please return all tickets to Danni or Glenda.  Contact Glenda on 0419 983 680 if  you have any issues.
The Greenwich Flying Squadron thanks you for your support.
Next Wednesday GFS is hosting YOTS (Youth of the Streets).
If you normally tie up alongside the club before racing please keep the two sides of the pontoon clear from 5:00 pm so that members can launch tenders from the sides and give clear access for yachts to come alongside to pick up visitors.
The club must take extra care with visitors and keeping the pontoon readily available will help.
Also a reminder to skippers to offer the visitors life jackets if they are not strong swimmers and to provide safety information of some of the inherent dangers of sailing, especially swinging booms.
The RSYS will be sailing West of the Harbour Bridge.  They have potentially around 50 yachts in 6 Divisions including an Etchells class. Some yachts in the RSYS fleet are well over 40ft.  Sail Sydney Regatta is on the Harbour.
They are using islands as marks, passing all to starboard. Various divisions will do two or three laps of either Cockatoo or Snapper, Spectacle and Goat Islands.
Their start times commence at 1245 Hrs with the faster divisions first.
There are two more occasions when they will do the same – one to avoid foiling catmarans and one the Sydney Regatta.
RSYS monitors races on VHF 73. Their on-water co-ordinator is Rob Ridley 9017 0151.
Please take care with the additional traffic, we will attempt to set a course which will fit in.
In view of the possible congestion in the vicinity of the bridge and beyond the Down Harbour Race on December 8 will now be held on the following Saturday December 15.
The race on December 8 will be Saturday Summer Series Race 3. Details regarding this race will be revealed soon.
Revised courses will apply.
I am genuinely surprised there were not more protests and more damage in last night's twilight race…
In Humbug and in particular, off the Goat Island Red Channel Marker, numerous Skippers failed to acknowledge or follow the rules that apply when either overtaking or when passing a continuous obstruction.
•  Boats were pushing for room (on the inside) around continuous obstructions when they had no right to do so.
•  Overtaking vessels were not giving room to the vessel in front.
THE BOTTOM LINE
If there is not the room available in front of you, whether it be off Onions Point, going through Humbug, or when passing continuous obstructions…
PLEASE DON'T EVEN THINK ABOUT GOING THERE !!!
DON'T TRY TO SQUEEZE THROUGH A SPACE THAT DOES NOT EXIST.
ie plan ahead on the race track.


Skippers and Tacticians in particular, please read some of the key rules detailed below and note that under Rule 19.2( c ) in particular if you don't have room, the port/starboard and windward/leeward rules are switched off whilst rounding a continuous obstruction.
The Sailing Instructions state that the Goat Island Red Channel Mark is a continuous obstruction: (25 (vii) (b) ) and that Rule 19 applies.
(Don't forget the islands are continuous obstructions…as was the Tall Ship last night off Goat Island….)
Some of the key rules that apply in the above scenarios include :
19.2 Giving Room at an Obstruction
(a) A right-of-way boat may choose to pass an obstruction on either side.

(b) When boats are overlapped, the outside boat shall give the inside boat room between her and the obstruction, unless she has been unable to do so from the time the overlap began.
(c) While boats are passing a continuing obstruction, if a boat that was clear astern and required to keep clear becomes overlapped between the other boat and the obstruction and, at the moment the overlap begins, there is not room for her to pass between them, she is not entitled to room under rule 19.2(b).  While the boats remain overlapped, she shall keep clear and rules 10 (port/starboard) and 11 (windward boat keeps clear) do not apply.
15 ACQUIRING RIGHT OF WAY
When a boat acquires right of way, she shall initially give the other boat room to keep clear, unless she acquires right of way because of the other boat's actions.
17 ON THE SAME TACK; PROPER COURSE
If a boat clear astern becomes overlapped within two of her hull lengths to leeward of a boat on the same tack, she shall not sail above her proper course while they remain on the same tack and overlapped within that distance, unless in doing so she promptly sails astern of the other boat. This rule does not apply if the overlap begins while the windward boat is required by rule 13 [your rights/obligations whilst tacking] to keep clear.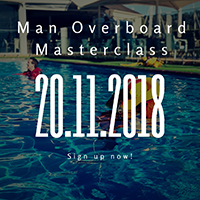 The 2018 – 2019 sailing season is well underway.
The GFS Committee has arranged for Above and Beyond Boating to present a Man Overboard Masterclass for GFS skippers and crew in November.
This is a short, action-packed seminar will take the fear out of an MOB scenario and show you how to create and implement a practical and MOB plan for your vessel.
Even experienced sailors, including our Race Coordinators, believe these courses are invaluable, particularly for crew who do not train regularly.
Shore Based Training – strategies for preventing and recovering a person overboard, including a simulated recovery of a 100kg person.
Location – Greenwich Flying Squadron
Date and Time – Tuesday 20 November at 1800 – 1930 hrs
Course – run by the professionals at Above and Beyond Boating.
Cost – Free for all GFS financial members (both skippers and crew).
The Man Over Board Masterclass is an intensive 90-minute seminar.
You will experience recovering 'BOB', a 100kg artificial human.  As part of the class, AA Boating will bring you up to date with the latest advances in technology from modern life jackets and harness lines, to lights, beacons and recovery aids.

To confirm your attendance – you need to follow this link  http://www.aabboating.com/mob/ for all booking and communications
AAB Boating has conducted similar pre-season courses at the RPAYC.
Above & Beyond Boating are well known locally and internationally for thinking outside of the box, whilst raising the standards of safety everywhere they go.
There will be added congestion on the West Harbour which coincides with our Summer Series Race 1 this Saturday (November 24) .
The MHYC is contesting its annual 7 Islands Race which will have their fleet rounding Cockatoo, Spectacle, Snapper and Goat Islands.
Start times – Handicap Start
1220 Hrs Course Board Displayed
1230 Hrs Start Count-up Sequence
Course
Start Hunters Bay, Balmoral
1 AS Mark Shark Island (S)
2 Shark Island (S)
3 Fort Denison (P)
4 Cockatoo Island (P)
5 Spectacle Island (P)
6 Snapper Island (P)
7 Goat Island (P)
8 Fort Denison (P)
9 Clarke Island (P)
10 Bradley's Head Safe Water Mark (P)
Finish MHYC
If any thing untoward occurs contact –
Organising Authority
Middle Harbour Yacht Club
Lower Parriwi Road, The Spit Mosman, NSW 2088
PO Box 106, Seaforth, NSW 2092
P: 02 9969 1244 E: sailing@mhyc.com.au W: www.mhyc.com.au