The Laser Metropolitan Championships will be held at the Drummoyne Sailing Club on the weekend of the 17th and 18th of March 2018.
There may be at least 80 Lasers – courses around Cockatoo, Snapper and Spectacle.
We may set a 'Down Harbour' course.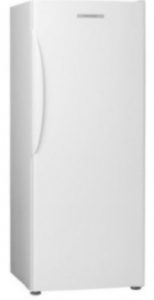 Please be advised that the members' fridge is provided as a service for members. It is an honesty system and is not available on days when the club's licence allows the bar to be open. It is available at all other times – weekdays, Saturday and Sunday race days.
At present the funds collected are not matching the funds expected. The system is currently under review and is being monitored to ascertain whether the shortfall is continuing and whether the service should be continued.
Rule 14, avoiding contact, is a rule that always applies, anywhere on the racecourse.
A boat shall avoid contact with another boat if reasonably possible. However, a right-of-way boat or one entitled to room or mark-room (a) need not act to avoid contact until it is clear that the other boat is not keeping clear or giving room or mark-room, and (b) shall be exonerated if she breaks this rule and the contact does not cause damage or injury.
The rule's intended message is, put simply: "Sailing is not a contact sport."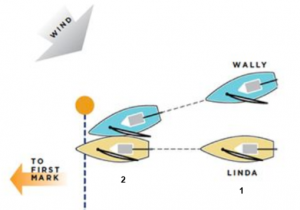 Linda and Wally are converging as they approach the line to start. Neither changes course and they collide with damage to both boats. Linda protests Wally.
At Position 1, Wally must keep clear of Linda (Rule 11) and he also must avoid contact (Rule 14). Because the starting mark is surrounded by navigable water, Rule 18 doesn't apply (see the Preamble to Section C of Part 2).
Wally is barging and Linda is under no obligation to give him mark-room.
Wally could avoid breaking any rule by luffing and leaving the mark to port. But he doesn't, and just before Position 2, Wally commits to sailing between Linda and the mark. At that moment, it becomes clear that Linda needs to take avoiding action in order not to collide with Wally, so Wally is not keeping clear (see part (a) of the definition Keep Clear). At the same moment Rule 14(a) begins to require Linda to act to avoid contact, which she easily could do by bearing off a few degrees.
The protest committee disqualifies both boats—Wally for breaking Rules 11 and 14 and Linda for breaking Rule 14.
There will be a quiz coming soon.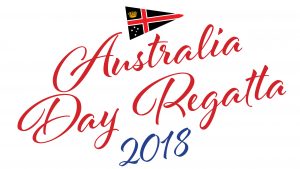 In the GFS  satellite regatta medallions have been awarded to the yachts which finished second and third in races  held for  –
Twilight Yachts                January 24
Saturday Yachts              January 27
Laser Class                      January 28
Sabots                              February 4
There are a couple at the club to be collected.
The following first place winners will be invited to Sydney Town Hall on Tuesday March 27 to receive their medallions,
Class or Division
Boat Name OR Sail Number
Skipper /Crew                        
Twilight Blue
AVANTI
Peter Clarke
Twilight Green
SILVER SPRAY
David Wells
Twilight White
AMATEAU
Brian Davey
Twilight  Orange
FOLKLORE
William McLaughlin
Twilight  Gold
ETESIAN
Bram Penberthy
Twilight Black
LISDILLON
Andrew Richardson
Saturday Division 1
TANA
Pam Joy
Lesley Barr
Saturday Division 2
PACA
Paul Hanly
Laser
ALL SHE WANTED TO DO WAS ROCK
 Bill Haughton
Sabot 1-Up
MISS BEHAVING
Elliott Wilson
Sabot 2-Up
WILD SIDE
Aiden Senior
Tristin Power
Junior Laser
FULLY WORKING
Jessica Challenger
A funeral  for Ross will be held this Friday February 23 at 10:30 am at the Camellia Chapel, Macquarie Park (corner of Delhi Road and Plassey Road).
The service will be followed by a celebration of Ross' life at The Deckhouse, Clarke Road Woolwich from 12 to 3:00 pm.
This invitation extends to all Ross' sailing friends.
Dear Club Members
I was informed this Thursday morning of the passing of Ross Springer, owner and skipper of the blue fleet yacht Izzi.
Ross competed in Izzi on Wednesday night and was in the raft up at the club when the 40 knot southerly hit.
I saw him waiting patiently in the raft up for the outer yachts to clear little suspecting it would be his last visit to GFS.
Ross passed away at home Wednesday night and we will circulate details of funeral arrangements in due course.
Ross has been a valued member of the club and for several years we raced against him in the Blue division and also the Winter Wednesday events at RANSA.
Ross has been a loyal supporter of racing at GFS and will be greatly missed.
On behalf of all GFS members I express my sincere condolences to Ross' family.
Regards
David Edmiston
Commodore
It is with sadness that we note the passing of 'Bill' Wilson.  Bill along with his brother Tim took on the responsibility of laying the start/finish marks for twilight races and the custodianship of Pegasus.
Bill's death notice appeared in today's paper.
WILSON David Paget Avonmore (Bill)
Passed away on Monday December 18th, 2017.
Devoted and much loved husband of Lilly, dearly loved by his brothers Tim and Peter, and in-laws of Wilson's and Markos families including many nieces and nephews.
Bill's Funeral Service will be held in the East Chapel of the Northern Suburbs Crematorium, 199 Delhi Road, North Ryde on THURSDAY (December 21st, 2017) at 3.30 pm.
This year the maxi yacht Infotrack (sail number SYD 1000) is sailing under the GFS banner to Hobart. Infotrack, previously Perpetual Loyal, is now owned by regular GFS Twilight competitor Christian Beck, his brother Darren another GFS regular is also part of the crew.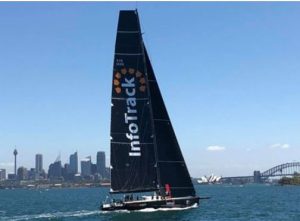 Perpetual Loyal was rewarded last year after modifications were made by breaking the Sydney Hobart race record set in 2012 by Wild Oats XI, by four hours 51mins and 52secs, finishing in the time of 1 day 13hrs 31mins 20secs and culminating in second overall and second in Division 0.
We wish both Christian and Darren all the best for a safe, fast and successful race.
The position of Infotrack can be followed throughout the course of the race on the Rolex Sydney Hobart Yacht Race site or here.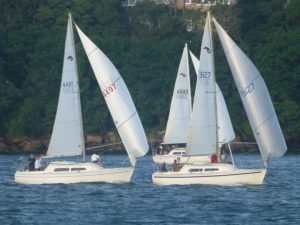 The Twilight duty roster has been updated again (December 8, 2017). Please check the roster yet again to see if your boat is rostered for duty.
It is important to attend if you are rostered to share the load on the night.
The updated roster is on the Yachts Racing Information page or  Yachts Twilight page  or  HERE
All yachts registered at GFS are invited and eligible to sail in the West Harbour Summer Series.
Races are held every second Sunday commencing on January 14, 2018.
Please see the link to the 2018 West Harbour Summer Series Sailing Instructions.
We have also created Course Maps.
The list of entrants and start times list of entrants and the allocation of Divisions and Start times can be found via the 'Results' section of the Balmain Sailing Club's website.
If you intend competing and your boat is not listed, please enter using Top Yacht via the Balmain Sailing Club's website, or by clicking here by no later than 10.30am Sunday.
The West Harbour Summer Series will consist of 6 Pursuit Races.
There is no entry fee payable for competitors who have paid their full season race fees at the Drummoyne Sailing Club, Greenwich Flying Squadron and the Parramatta River Sailing Club.
Next Wednesday December 6 is the annual visit of Youth Off the Streets to GFS. Please read the following message to ensure that all runs smoothly on the night.
"We are asking yachts that normally tie up alongside before the racing to keep the two sides of the pontoon clear from 5:00 pm so that members can launch tenders from the sides if need be. This will allow yachts clearer access to come alongside to pick up visitors.
We want to take extra care with our visitors and keeping the pontoon readily available will help.
Also a reminder to skippers to offer the visitors life jackets if they are not strong swimmers."
Last Saturday, November 18, saw the conclusion of the Spring Series with Race 8. The day proved challenging with some heavy gusts hitting the fleet as the battled around Course 19.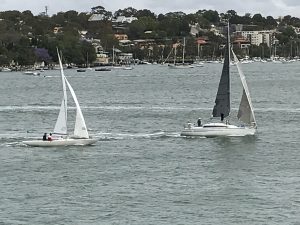 The series places in Division 1 were  –
1st TISM  11 points
2nd Blue Chip 15 points
3rd Gwizz 21 points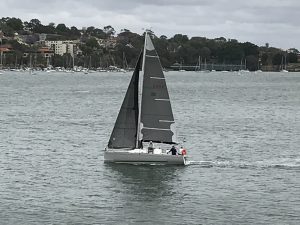 In Division 2
1st Paca 9 points
2nd StarElan 16 points
3rd Umzimkulu II 27 points
Well done.

The latest issue of Humbug is available HERE.
It is a brilliant edition with some great stories, quiz and a photographic competition for you to enter.
For a nostalgia kick you can see Humbugs back to 2003 by clicking on the Humbug tab above.
We email Humbug to members. The last was on Tuesday November 7. We of course don't agree with the classification but if you did not find our Humbug email please check your junk mail folder.