Login to new GFS Membership System

The GFS Membership system is now provided by revSPORT. Access this by clicking on the following link:
Home – Greenwich Flying Squadron – revolutioniseSPORT
Your user id for revSPORT is different to the one previously used by GFS. You will be provided with your user id in a password reset email sent in early June.  Please make a note of your new user id and new password once set.
To access your account details or update your details click on the Profile button circled in red in the screen image below.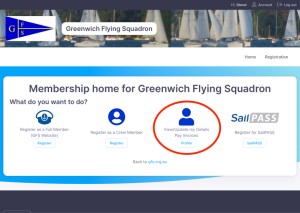 Now enter your username and password to access your account

Forgot Login Details

If you cannot find your login details or did not receive the password reset email please visit the GFS revSPORT website
https://www.revolutionise.com.au/gfs/login/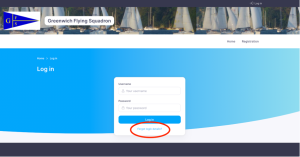 and follow the instructions for 'Forgot Login Details'. You will then be sent an email to reset your password and access your account.
If you have any further issues please give the  Membership Secretary, Chris Gaskell, a call on 0432 018 081 or in his absence Dion Weston on ‭0408 859 267‬
Confirm Contact Details (Particularly Emergency Contacts)
It is important for our safety procedures that the system contains an accurate date of birth and emergency contact details.
After you login to the system you will be presented with the 'My Profile' screen. Please check your date of birth is correct.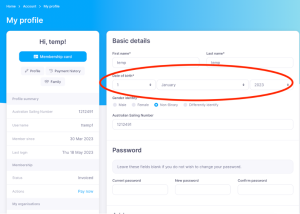 Now scroll down to the Additional Information section and update your emergency contact details if necessary, then click on the 'Emergency Details Correct Check Date' field to confirm that the details are correct as of today.
Pay Invoice
In early June you should receive an email with the invoice for your membership renewal. Click on the 'View invoice & pay' box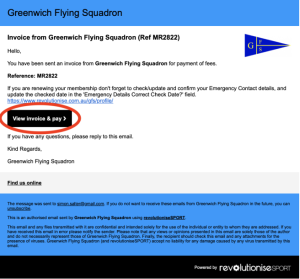 This will then show your invoice details and you can make a payment by clicking on the 'Debit/Credit Card' link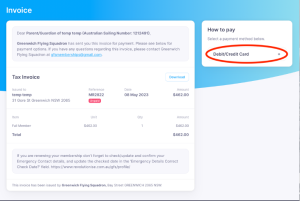 After successful payment you will receive an email confirming the payment you have made
Lost Invoice
To pay your invoice, login to your account and then click on the 'Pay Now' text.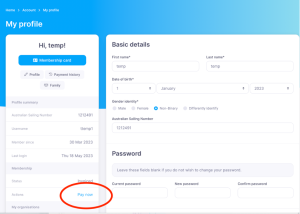 This will then show your invoice details and you can make a payment by clicking on the 'Debit/Credit Card' link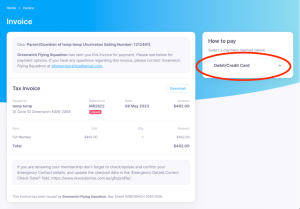 After successful payment you will receive an email confirming the payment you have made