This year the maxi yacht Infotrack (sail number SYD 1000) is sailing under the GFS banner to Hobart. Infotrack, previously Perpetual Loyal, is now owned by regular GFS Twilight competitor Christian Beck, his brother Darren another GFS regular is also part of the crew.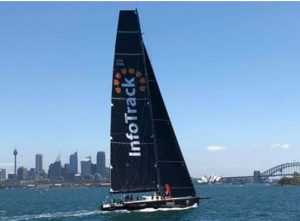 Perpetual Loyal was rewarded last year after modifications were made by breaking the Sydney Hobart race record set in 2012 by Wild Oats XI, by four hours 51mins and 52secs, finishing in the time of 1 day 13hrs 31mins 20secs and culminating in second overall and second in Division 0.
We wish both Christian and Darren all the best for a safe, fast and successful race.
The position of Infotrack can be followed throughout the course of the race on the Rolex Sydney Hobart Yacht Race site or here.