Well done to the hardy skippers and crews who ventured out to race in DH 1.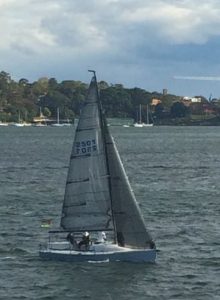 The wind funnelling along the Lane Cove River resulted in a delay to hopefully allow it settle (??) and then a lively start.
The revised divisions caused some initial confusion but all yachts managed to sail in their assigned groups, albeit requiring a couple of returns to correctly re-start.
Results have been updated and the couple of strong gusts which blew through the computer have disappeared with the meeting of great minds on Tuesday night.  Results are on the Yachts page.
After the start Flair returned to the safety of Tambourine Bay! However, watching the fleet sail home past Greenwich wharf showed not only the wind strength but the excellent sailing ability of skippers and crews in puffy conditions.