Grey skies and an elusive wind prediction met the GFS fleet as it assembled in the vicinity of the club to await the start.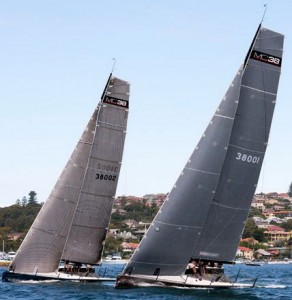 Again Blue Division had a good sized fleet with White and Red not quite so good.  The wind at first had a fair bit of East but as the race progressed it went more to the South.  The opinion on Flair was that we visited parts of the harbour that we had never been before.
In Blue Division Flashback were powerful and made it to Lady Bay and back successfully negotiating the melee of boats on the harbour including the final point score races for the MC38 Open Regatta to decide the first-ever MC38 Australian Season Champions.  The MC38s (pictured) looked impressive and sailed in a confined area between Clark Island and Kirribilli.
Conquista and Solitude took the other places both on the water and handicap.
In White, Umzimkulu II took the lead and with Tana in pursuit led the fleet toward the bridge. Tana powered away to be home ahead with Joka third.  Umzimkulu took the handicap result from Tana and Joka.
In Red Flair had an exciting race firstly with the Historical Skiffs, then the Food and Wine Festival at Clark Island, then the RSYS Etchells, MC38s and whatever else had the myriad of inflatable marks in the vicinity of Clark Island.  Finally we challenged the West Harbour dinghy fleet and Flashback to return safely to the club.
Please note the change of date for the next Down Harbour Race – December 19.