Grey skies and a predicted strong wind looked like it would be a miserable afternoon on the water.  However, no rain and a moderate but tricky SE – SSE breeze made for a good race.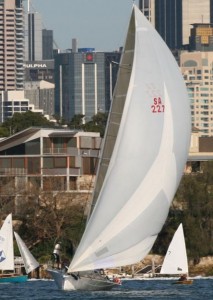 Blue Division had the trickiest exit through Humbug and the fleet clustered at Onions Point in the disturbed air.  Foxy and Solitude made the early break whilst Flashback gave the others an start on their way to their turning mark at Lady Bay. The run home had Flashback at pace to be back ahead of Solitude and Irukandji. Handicap results went to the Etchells – Foxy, Eggshells and Forte Forever – in a clean sweep (even if they had difficulty recognising their skipper or crew).
In White Division Humbug again trapped the fleet momentarily with Tana, Paca, Joka and New Territories making the early break on their way to Neilsen Park. At the end New Territories had a good lead over Tana and Joka. Joka took the handicap result from Out of Africa and Tana.
The Red Division Match race was on again and proved to be a fabulous race with both Barubi and Flair in the lead at several times. The exit through Humbug was a bit easier as there was no disturbed air and only the true (???) breeze to negotiate. The run home for both was extra special with a couple of cruising Hunter 33s deciding to sit on both our transoms until we were finally able to break away.  At the end Flair and Barubi were separated by 2 seconds on the water.
Please consider entering the Australia Day Regatta on the Harbour on Australia Day. For details see above.