Introducing our new sponsors, who kindly came on board during 2020. With the COVID restrictions on gatherings at the club, we feel that we have not been able to give them the exposure they deserve and we would like to thank them for their sponsorship.
Our new sponsors are;

ADDRESS:
242 PENNANT HILLS ROAD
THORNLEIGH NSW 2120
Sydney 4×4 and Outdoor are a team of industry-leading experts based right here in metro Sydney. They have been producing top of the line vehicle builds for well over 35 years, with thousands of retail, trade and fleet vehicles passing through their workshop every year. Specializing in super high-quality Ironman 4×4 "fit for purpose" builds, tailored to suit your needs. They have a massive range of products, brands, and services that will have your next big adventure covered, plus a range of hand- held radios for your boating needs. Mention GFS for a discount on work done or when purchasing a hand-held radio.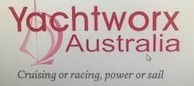 yachtworxaustralia@gmail.com
(02) 9457 6547 
Yachtworx Australia have an extensive knowledge of everything boating and offer a complete range of services to anything that floats. They have two premium locations in Sydney; White Bay 6 at Balmain and Empire Marina at Bobbin Head.
From all shipwright services, slipping, antifouling, installations and engine servicing and repairs, they have you covered. Great time over winter to check in and get your boat in tip top condition for the next season.
Yachtworx are offering 10% discount to all GFS members.
PLEASE SUPPORT ALL OUR SPONSORS and we thank them for their continued support, especially over this difficult COVID time.
Back Vintage, Helly Hansen, Joe Walsh Rigging, Doyle – MacDiarmid Sails, Robert Oatley Wines, Zjoosh, Sydney 4WD and Yachtworx Australia