The Laser Masters' World Championships were sailed in the waters off Kingston between July 12 and 18. The sailing venue, Portsmouth Olympic Harbour, is located at the eastern end of Lake Ontario and the head of the St. Lawrence River in Canada.
Three GFS members competed – Kevin Phillips, David Edmiston (Great Grand Masters) and Geoff Lucas (Over 75 fleet).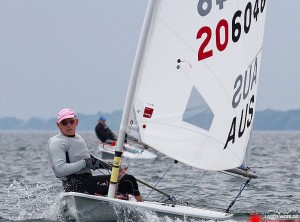 Photo Luka Bartulovic
The results after 11 races (Final Provisional results) can be viewed here – Radial Great Grand Master and Radial 75 and over.