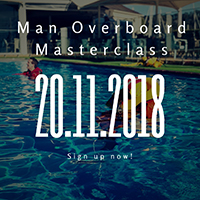 The 2018 – 2019 sailing season is well underway.
The GFS Committee has arranged for Above and Beyond Boating to present a Man Overboard Masterclass for GFS skippers and crew in November.
This is a short, action-packed seminar will take the fear out of an MOB scenario and show you how to create and implement a practical and MOB plan for your vessel.
Even experienced sailors, including our Race Coordinators, believe these courses are invaluable, particularly for crew who do not train regularly.
Shore Based Training – strategies for preventing and recovering a person overboard, including a simulated recovery of a 100kg person.
Location – Greenwich Flying Squadron
Date and Time – Tuesday 20 November at 1800 – 1930 hrs
Course – run by the professionals at Above and Beyond Boating.
Cost – Free for all GFS financial members (both skippers and crew).
The Man Over Board Masterclass is an intensive 90-minute seminar.
You will experience recovering 'BOB', a 100kg artificial human.  As part of the class, AA Boating will bring you up to date with the latest advances in technology from modern life jackets and harness lines, to lights, beacons and recovery aids.

To confirm your attendance – you need to follow this link  https://www.aabboating.com/mob/ for all booking and communications
AAB Boating has conducted similar pre-season courses at the RPAYC.
Above & Beyond Boating are well known locally and internationally for thinking outside of the box, whilst raising the standards of safety everywhere they go.