David Edmiston's friend and crewmate of many years, Ron Beament, passed away on board Passion X on Monday afternoon during the Commodores Cup regatta at Port Stephens. Ron had a lovely temperament and was a great supporter on and off the water. He was extremely knowledgeable and all the crew enjoyed his company and his conversation.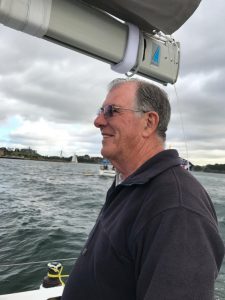 Ron helped with the modifications on David's old Passion and with the building, turning and launching of Passion X. His handiwork will live on in Passion X. Ron passed quickly among friends he had sailed with over many years and despite the best efforts of the crew, committee boat, paramedics and water police could not be revived.
The regatta held a minute silence for Ron on Tuesday and many of the fleet flew black ribbons for him on Wednesday. The Greenwich Flying Squadron members at Port Stephens will toast Ron with his signature drink, a lemon lime and bitters, tonight.
Ron's memorial service will be held this Saturday 13th April, at 11:30 am at the East Chapel of the Northern Suburbs Memorial Gardens and Crematorium, 199 Delhi Road, North Ryde. Family and friends are warmly invited to attend. Sadly missed.