Following this race, races will be fortnightly, WHWS Race 3 is on June 5th.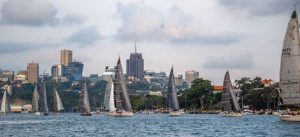 There will be a presentation of prizes in the Sailor's Bar at DSC after Race 2 on Sunday.
The next presentation after Race 3 will be at BSC.
Thanks to Gerry Brooks (DSC) for this report. Last Sunday was a bit of a disappointment. Race 1 started in light winds of about 5 Knots from the North West. This held up for a while, but, sadly faded away as the afternoon wore on. The course was shortened at the Manns Point mark and about half the fleet finished.
Balmain Tiger led the first division fleet with X-Ray in second place. Delirium showed a clean stern to Red October in Division 2. Division 3 was won by Eau De Vie and in Division 4, only two boats finished before the deadline; Loose Change and Umzimkulu 2. The 5th Division consisting of six J70s was won by Y-Knot which took the honours from Juno by a margin of 4 seconds.