Again a delayed start and a short course 13A due to the uncertainty of the various wind predictions linked to the GFS website. The 10 minute delay proved beneficial as the start saw yachts heading for Goat in a nice breeze. However, the rounding at Goat proved tricky for some in the fickle breeze in the shelter of the island.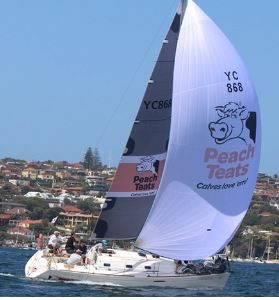 In Blue Division 1 Irukandji powered away to lead the fleet and finish ahead of Blue Chip and Chloe. Jester was rewarded for a good sail being first on handicap ahead of Blue Chip and Chloe.
In Green Division 2 the fleet made a good start until the Goat doldrums came in to play which allowed some yachts to escape and others to park for several minutes. Peach Teats Velocity (pictured) established a good lead to finish ahead of Gwhizz and Hasta La Vista. Handicap results to Paca from Hasta and Flaira.
Although we are not sailing for sheep stations it was good to see a yacht exonerate by completing a 'two turns' penalty after an on water incident. This was much appreciated and would have avoided any possible protest action.