Once again cloudy skies and strong Southerly winds made for an interesting day on the water.  Course 25 resulted in a quick, perhaps too short, race.  Nevertheless, no one got wet nor did any spinnakers get injured.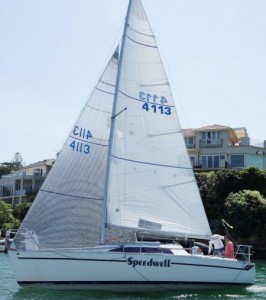 Solitude led the way in Blue Division and were able to make full use of their asymmetrical kite in the reaching conditions.  Forte and Sweet Chariot tried valiantly to bridge the gap and made a strong charge to the finish with the three of them finishing inside a minute.
Eggshells and Blue Chip continued their on water battle finishing within 20 seconds. Speedwell were victorious on handicap from Foxy and Gwhizz.
In White Division Evo made a brilliant port tack start and continued to sail strongly for the entire race being well rewarded with the win on handicap.  Paca and Flair had a close race and Umzimkulu II sailed well to bridge the gap after a mistimed start.