The weather conditions again proved tricky to determine and fortunately the breeze came in just in time for the start. The decision to sail shorter courses was made for a number of reasons specifically the uncertainty of the breeze along with the hot humid conditions with temperatures around 30o and the huge run out tide (a change of 1.7 metres). It was too hot to stand on the clubhouse deck without shoes.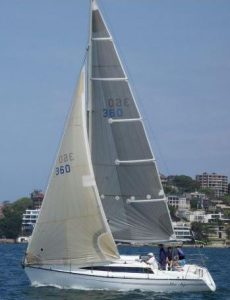 Blue Division had a quick race around the Fort and the other islands with Flashback winning both on the water and handicap from Blue Chip (pictured) both on scratch and handicap and Peach Teats 3rd on scratch and Tana on handicap.
In White Division the Etchells were the dominant force with Forte Forever, Foxy and Eggshells on scratch and handicap after a close race.
In Red Division Paca and Joka gained the ascendency and along with Wind Charmer were within one minute at the end. Joka were first back but were overtaken by Paca in the computer.
Good luck to Mike Wise and crew in Barubi and Richard Wood and crew in Evo for the Endeavour Yacht titles at Drummoyne Sailing Club next Saturday and Sunday.