A very healthy fleet of 20 yachts contested the race in balmy summer conditions (at last), with the wind prediction ranging from 10 to 15kts and finally a NE breeze.  The actual conditions which met the fleet differed slightly with the wind upward of 15 kts and varying from ENE to NNE depnding on where you were and when.  Several spinnakers bear testament to the tricky conditions.
It was fortunate that we had a Down Harbour event as the waters around our normal Saturday courses seemed to be more crowded than usual with not only the Lane Cove and Drummoyne fleets but also from Hunters Hill who were hosting a NSW travellers' trophy regatta over this weekend and were expecting over 100 Optimist dinghies.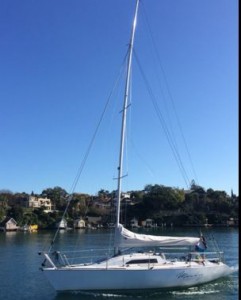 In Blue Division there were 13 boats.  Welcome to Paul Glynn and crew in the Davidson 34 Monkey Business who sailed as a casual entry and were very competitive.  On the water result was Flashback from Solitude and Forte Forever.  On Handicap Forte from Saints II and Gwhizz.  The Etchells just missed a clean sweep by about 30 seconds with Eggshells fourth.
In White Division Tana made it back first followed by Umzimkulu II and then Joka.  The positions were reversed on handicap with Joka first from Umzimkulu and Tana.  Paca and Out of Africa were not too far behind.
In the Reds match race Flair was able to just keep ahead of Evo on the work to the Bridge. Then from the Fort to Clark Island and back to the Fort Flair managed to extend the lead.  From the bridge to Greenwich Point Evo narrowed the distance and finally, for once, Flair had a better run through Humbug.