The strong and gusty wind reduced the fleet numbers as skippers evaluated the safety of competing in adverse conditions relative to their particular boat or crew.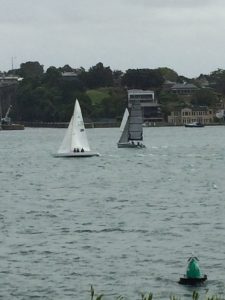 The start from the club and Course 35 made for a quick race. In Blue Division Irukandji powered away at the start.  Solitude after a slow start made up ground throughout the race to only be a minute behind at the end similarly, Chloe, Eggshells and Blue Chip were separated by only 40 odd seconds. On handicap Chloe won from Blue Chip and Eggshells.
Only two starters in Green division with Hasta La Vista escaping at the start and were 8 minutes ahead at the end. However, Umzimkulu II won on handicap.
Eggshells and Solitude