Again windy conditions kept crews on their toes to deal with shy spinnaker runs, strong gusts and tricky mark roundings.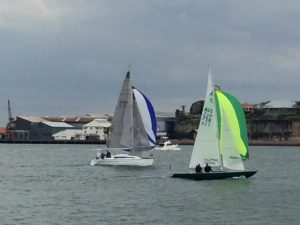 In Blue Division 1 Pistol Dawn powered away at the start to win on the water by a considerable margin from Solitude and Blue Chip which were close at the end.  The Etchells had a good close race with Foxy gaining the upper hand from Chloe and Eggshells to win on handicap from Pistol Dawn and Blue Chip.
In Green Division 2 Gwhizz powered away at the start and was well set up for the conditions with a reefed main.  The chasing pack swapped positions several times in the course of the race.  At the end StarElan made it back after Gwhizz with Hasta La Vista not far behind them.  Paca, Joka  and Umzimkulu II all finished within a minute just behind HLV and not far ahead of Speedwell.  Handicap results went to Umzimkulu ii from Paca and Joka.