Sunny skies and a busy day on the water with the regular Laser and Flying 11s from Lane Cove, Hartley TS16s from Drummoyne and added to this the MHYC 7 Islands Race and heats of the NSW State Cherub Titles from DSC.  If this was not enough in the windy conditions a tanker arrived to berth in Gore Cove.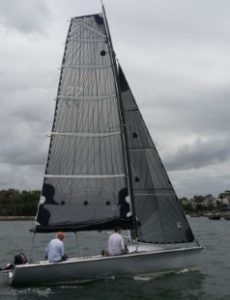 For Course 18, I had the starters move the Goat Buoy mark over towards Ballast Point as I was aware of the arrival of the tanker.  Please be aware that this location may be used again in the future.
Also, please understand that there are some areas which are deemed prohibited areas for GFS races – all skippers should be aware of these – read SI 25 (n). If you do not comply you have not sailed the course and should not be recorded as a finisher. It is up to the integrity of the skipper and crew to sail fairly within the Racing Rules of Sailing and the modifications imposed by our Sailing Instructions.
The handicaps for the Summer Series were recalculated and  based on averages calculated from actual performance during the Spring Series.  With blended divisions this season handicapping has proved difficult.
Standout performances in Summer Race 1 were Solitude (pictured) and StarElan both of which mastered the windy conditions, congestion and other GFS competitors to be back first in their respective divisions.