At last the summer weather made it to Saturday and with a good breeze made for a good race. The only difficulty being that I missed an email that informed me that the starters were actually not available and just up the road at Byron Bay!  However, a stand-in crew stepped in to manage the start and racing continued on time.
Course 35 and 35A worked well and in Division 1 Solitude made a perfect start hitting the line at speed with less than a metre to spare they built on the lead and by Longnose point were well ahead.  Irukandji continued to narrow the gap upwind. The Etchells group have made a comeback with the addition of Foxy.  They finished one after the other after some close racing.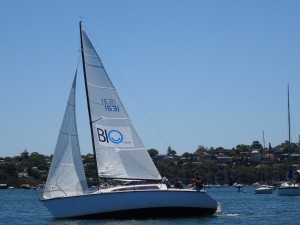 Division 2 was again under-represented and with Flair making a late start left Umzimkulu II and Paca to fight out the race on the water.  In the strong conditions Umzimkulu were fast and kept in front for the entire journey.
Fortuitously, or not, Gwhizz suffered gear failure and returned to the club and agreed to record the finish (thanks Ann) and allow Flair to actually race after they had been stooging around sailing near the club (pictured) and in Humbug.
The added bonus was that the Whizzies were able to release the woman we has inadvertently left locked in the club and who is probably not talking to us anymore – sorry Louise.
Next Saturday race is Saturday Series Race 3 (changed date).