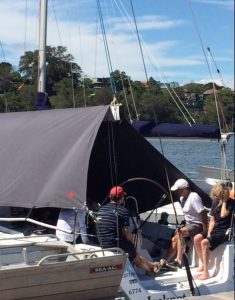 After the preceding wet Friday Summer Race 3 was sailed in warm sunny conditions albeit with a failing breeze and huge run-out tide. A shortened course saved the pain of having to negotiate Humbug against the torrent on the way to the finish.
Jackpot (pictured) is sailing in the Sydney- Hobart race and was at the club doing their final inventory, preparation, man overboard drill and crew briefing.  Ausreo (Calliban II) representing GFS is also contesting the race. We wish them both a safe and speedy race.
In Blue Division 1 Chloe led the way in the shifty conditions winning on the water and handicap by a considerable margin. Forte Forever finished ahead of Blue Chip on the race through the computer to grab the minor places.
In Green Division 2 Flair made a fabulous start led at the Compass mark held on to the leaders at Goat and were then swallowed by the tide.  Hasta La Vista took the lead after catching up to the early leaders – Velocity and Speedwell.  Paca again sailed an excellent race to be up with the leaders and finish second on the water ahead of Velocity. Handicap results to Hasta from Paca and Speedwell.
I wish all Saturday competitors a Merry Christmas and a safe holiday break and look forward to resuming the Summer Series on January 7, 2017.