As a welcome to 2017, the strong Saturday winds continued.

The course (60) chosen to avoid contact with the tanker started from the deck and proved successful as only the tail-enders had to avoid the tanker as it departed from Gore Cove.
Welcome to Eisen Laing and crew in Clovelly Pacific and apologies that the results placed them in the incorrect division.  These will be adjusted.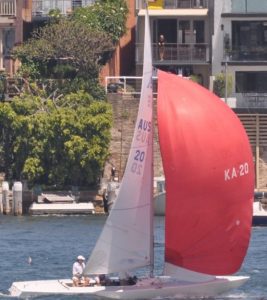 In Blue Division 1 the Etchells Eggshells (pictured) and Foxy had a great day on the water fending off Irukandji despite their best efforts with a huge overpowered asymmetrical kite.  At the finish the three were separated by less than a minute. Spinnaker runs were a challenge with both Irukandji and Blue Chip spearing off in a variety of directions.  Generally the fleet were close on the water all finishing within about 7 minutes. Jester sailed well in the strong wind to be third on handicap behind Eggshells and Foxy.
In Green Division 2 a depleted fleet kept relatively close all afternoon.  Clovelly Pacific led for most of the race grabbing the lead soon after the start.  Paca and StarElan battled closely on the water and Dreamer wound up to return back behind Clovelly Pacific. StarElan broke away from Paca to finish third.  Provisional handicap results to Flair from StarElan and Paca.