Summer Race 6 was the end of the Saturday Summer Series for 2015 – 2016.  Luckily the predicted storm and damaging wind held off until all skippers, crews and starters were soundly ensconced in the clubhouse albeit under a dripping roof.  The strength of the tempest which hit around 4:45pm was amazing.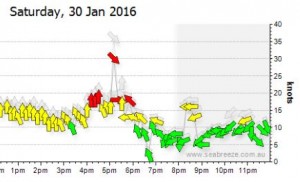 The course which was set, Course 17, was again to minimise the impact of the small tanker returning to Gore Cove after refuelling the cruise ships in port. 
The start in Division 1 was close and required a restart by some eager to get their race over before the storm.  Solitude made the early break in the fluky conditions which they held for the remainder of the race.  Forte Forever and Blue Chip had a close race and were not too far back.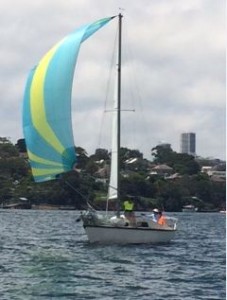 At the finish Blue Chip, Sweet Chariot and Irukandji finished within seconds. Handicap results went to Speedwell from Blue Chip and Forte Forever. 
Summer Series results to Solitude with Forte Forever and Irukandji equal second.
In Division 2 it was great to have five boats keenly contesting the race.  Joka dominated from the start and Evo and Umzimkulu II traded tacks for most of the race.  Flair were underpowered and Paca had an unwanted excursion on the kite run past Cockatoo Island.  In the end Evo took the handicap honours from Joka and Flair.
Paca were the series winner from Flair and Then Umzimkulu II.