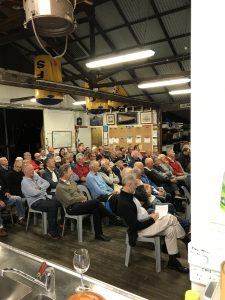 A healthy crowd of skippers and crew attended the skippers' information evening on Wednesday September 27 at the GFS clubhouse.
Is is an essential that all participants in GFS events are made aware of their requirements and the clubs responsibilities.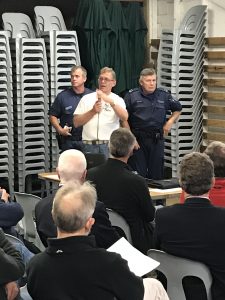 If you missed the evening please read the summary of the presentation here.  Have your crew view it as well. This presentation is also on the Yachts – Racing Information page.
The night culminated with a tour of the Water Police vessel and off course the extended discussion on the fabled 'Deck of All Knowledge'.
A very important key learning from last night…
If you have an on-board emergency  and need to call for help,
in order of priority:
(i)                Call VHF 16
(ii)               Marine Rescue (02) 9969 3270
(iii)              The Water Police at Marine Area Command (Balmain) – (02) 9320 7499.
….CALL "000" AS A LAST RESORT….