The weather held off until a healthy crowd gathered in the 'Cabin of Knowledge' to discuss the normal variety of topics related to the day's race and life in general. It was good to see crews representing 8 boats deeply analysing issues such as the number of times a person sleeps on their boat, the benefit of owning an Etchells, how good it is to sail an Etchells and where have they all gone.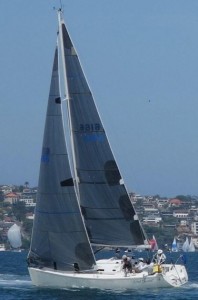 The Start boat failed to materialise past the pontoon so the courses sailed were 49 for Blue and 48 for White with a start from the deck. An interesting choice as it had both fleets rounding Goat Island in a different direction.
Nevertheless all went well and Irukandji again powered away to lead the Blue fleet closely followed by Solitude with Blue Chip and Sweet Chariot (pictured – thanks AR) close on the water.  At the end the entire fleet were only separated by 6 minutes on corrected time after racing through the computer.  Sweet Chariot Arrrrrr! took the handicap result from the well sailed Blue Chip 3604 and Eggshells the Etchells.
In White all competitors had a go at leading the race at some point on the water.  Highland Ghost won the start, Paca took the lead on the reach to Spectacle, Flair up to Goat, Umzimkulu II after Goat.  The finish order on the water mirrored the computer results which again had the fleet's corrected time all within 5 minutes.
Next race Down Harbour 3 November 14.