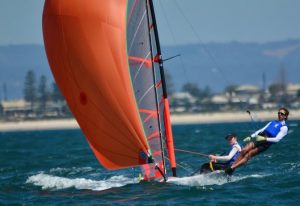 Henry Larkings and Miles Davey have become National Champions in the 29er Class after a count-back beating current World Champion Tom Crockett and World Women's Champion Annabelle Davies who were 2nd and 3rd respectively.
The 2017 29er Championships were held at the Royal South Australian Yacht Squadron between January 2 and 8.  Henry and Miles sailing DAMO finished the 16 race series on equal points with Crockett and 13 ahead of third place.
Miles first learned to sail 7 years ago as a GFS Sabot junior as did his sister Andrea and older brother James. Miles father Brian is a regular Twilight competitor with his Beneteau First 27.7, Amateau.
Henry was a previous State Sabot Champion representing Lane Cove Sailing Club.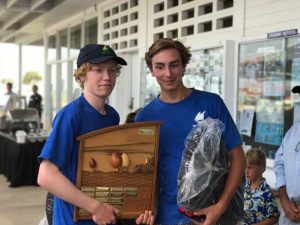 Henry and Miles with their 29er National Champions trophy.