It is with great sadness that I advise that Keith Tierney our Club Patron, longstanding GFS member and good friend passed away yesterday on December 5th.  He died peacefully at home in the company of his loved ones.
Keith has been a highly regarded member of GFS whose sailing experience and expertise were respected by all. He first learned to sail at the club in 1936 and subsequently raced competitively in skiffs (12ft, VJs and 16ft skiffs) in various clubs around the harbour. He later progressed to yachts, sailed his first (of 15) Sydney to Hobart race in 1950, regularly competed in his own yachts (S&S 40ft and later a S&S 37ft) at the CYC before returning to GFS in 1995 to race his most recent boat Arawa – a Cavalier 28.
A full story on Keith's career on the water can be found on the website at  https://gfs.org.au/wp-content/uploads/2017/11/Keith-Tierney-Patron-Article-v2.pdf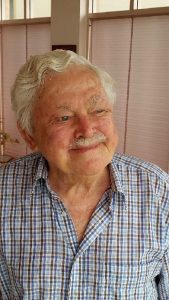 Keith actively participated in club activities and many members have benefitted from his knowledge of sailing tactics, wind and tide.  His knowledge of local conditions was extensive and he was rarely passed by another yacht in Humbug. Along with Harvey Porter he had been setting our Twilight courses for several years and (almost) always got our fleets home safely and in time for dinner!
Keith was elected Patron of GFS in July 2017 and generously continued to support the club and its members in this role. He was a much respected member of the GFS sailing fraternity and will be greatly missed by all of us. On behalf of all GFS members I express my sincere condolences to Keith's wife Judith, his family and many friends
Pam Joy, Commodore