Race 1 saw some 53 yachts contest the race in glorious autumn conditions in a gentle South Westerly breeze of around 10kts which lightened off as the race progressed.
BSC is the organising club for the 2017 Series and DSC will again run the start boat GFS will assist on the start boat and Harvey Porter represented us for Race 1.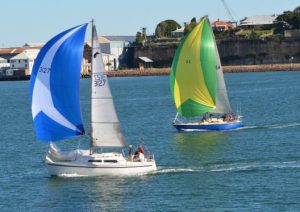 GFS yachts were dominant in Black Division 3 with Allons-y first, Capriole second and Umzimkulu II fourth. Also in Green Division 4 The Saints were second after a well-sailed race.
Capriole and Umzimkulu II
Results for Race 1 are on the BSC website or here.
Remaining West Harbour Winter Series, 2017 Race Dates
Month
Date
Event
May
21
WH Winter Series Race 2
June
4
WH Winter Series Race 3
18
WH Winter Series Race 4
July
2
WH Winter Series Race 5
16
WH Winter Series Race 6
30
WH Winter Series Race 7
The Notice of Race and Sailing Instructions are on the Balmain Club Website or here – NOR and Sailing Instructions . Entry System via the Balmain Sailing Club's website (scroll over the 'Racing' tab and click on 'Race Entry (Keelboats)'.
GFS Yachts who have paid their annual fees can enter this event at no charge.
Divisions have now been formed – Entries and Divisions. Currently 70 yachts have entered.
All competitors will be racing under the Performance Handicapping System (PHS). However if you wish to also race under the ORC Club Measurement based handicapping system, please confirm via email (racing@balmainsailingclub.com). BSC will use your 2016 rating certificates for the 2017 West Harbour Winter Series (at least until the 2017 certificates become available).