Under grey skies Race 1 of the West Harbour Winter Series started on Sunday with 55 yachts (and 1 catamaran) contesting in the four divisions.
The winds were light and variable which made for some testing sailing. The course was shortened allowing all fleets to finish.
A good day was had by (almost) all.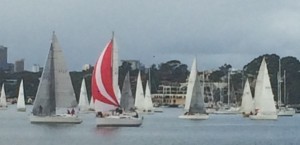 Tana vying for the lead in Black Division at the first mark off Snapper Island.