At last a Sunday Race with a good breeze, although cold. Perhaps we should expect this in winter. Great performance by GFS yachts Foxy in Division 2, Capriole in Division 3 and L'Atitude in Division 4 for their first placings on handicap.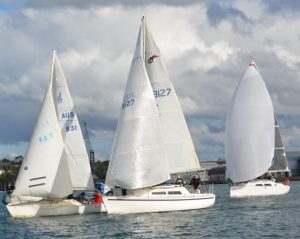 Remaining West Harbour Winter Series, 2017 Race Dates
Month

Date

Event

July
 2
WH Winter Series Race 5
16
WH Winter Series Race 6
30
WH Winter Series Race 7
 3127 Capriole
Results are on the BSC website or here.
The Notice of Race and Sailing Instructions are on the Balmain Club Website or here –NOR and Sailing Instructions. Entry System via the Balmain Sailing Club's website (scroll over the 'Racing' tab and click on 'Race Entry (Keelboats)'.
GFS Yachts who have paid their annual fees can still enter this event at no charge.
All competitors will be racing under the Performance Handicapping System (PHS). However some have opted to race under the ORC Club Measurement based handicapping system.