The book, A Changing Tide documents the history of Berrys Bay. GFS Member and owner of the yacht  World's Apart, Chris Stannard, commisioned Randi Svensen to write the book.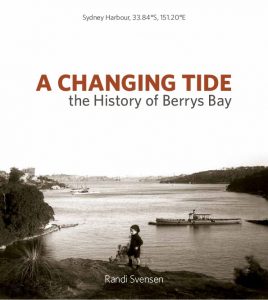 Berrys Bay once boasted the busiest working waterfront on the entire Harbour. Many of our most famous wooden boat boatbuilders had their bustling waterfront sheds there where they created vessels of unsurpassed beauty. Vessels like Ena, Lady Hopetoun, Boomerang and Mistral II were all built in Berrys Bay. Each of them, still afloat and in excellent working order today, are vivid testimony to the quality of master craftsmen like Walter "Watty" Ford, Charlie Dunn, William Langford. Bjarne Halvorsen, one of the five famous Halvorsen brothers, also worked there building sturdy 60ft workboats for the Pacific Islands.
But inevitably, gentrification has long since swept all that away.
The book can be purchased directly from our website www.stannardmarine.com.au – RRP $39.95 which includes postage.