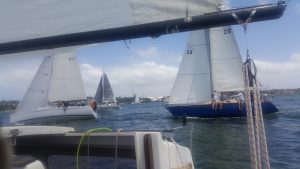 Again the wind prediction was off the mark with the expected light winds developing into stronger guts which occasionally reached 20 knots. Wind shifts added to the challenge.
Irukandji powered away from the fleet in Blue Division 1, leaving the rest of the fleet in its wake.  The Etchells, Chloe and Foxy were able to gain the upper hand through the computer to overtake Irukandji on handicap.
In Green Division 2 the fleet powered away from Flair with Paca firstly challenging Hasta La Vista and then Gwhizz took up the challenge.  Umzimkulu II sailed an excellent race to finish ahead of Paca and Hasta La Vista on handicap.
Again, I need to remind all competitors that the area between the Red Channel Marker (Beacon Buoy) and Spectacle Island is a prohibited area – see Sailing Instruction 25 n for an explanation.