A great day on the water albeit with short courses which were called as a result of the BOMs wind prediction for Sydney with 10kts and falling breeze.  Sadly the actual conditions didn't comply. As it was it took around 2 hours for most boats in Blue and White Divisions to complete the race.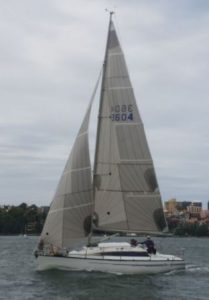 The arrival of the tanker also presented an unknown as to when it would make it through the congested harbour after its scheduled arrival time at the Heads.  Fortunately, Red Division remained ahead of it and the remainder of the fleet followed it through the narrows to its berth at Gore Cove.
Thanks to Harvey Porter for manning the start, recording the finish and entering the results with the regular starters competing in the Greenwich Games.
It seemed to be fairly close on the water in all divisions with handicap results in Blue to Hasta La Vista from Blue Chip (pictured) and StarElan.  In White the Etchells had the upper hand with Chloe on the water and handicap from Eggshells and Forte Forever.  In Red Wind Charmer powered away to be back ahead and with Paca shared the placings on handicap.