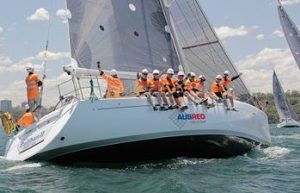 Ausreo (Caliban II) is also a competitor in the Rolex Sydney to Hobart Yacht Race this year.
GFS member Ian Creak in Calliban II has contested 2 previous races (2013 and 2014).
The crew includes Jim Lelliott as sailing master, Brett Haywood and 'Balmain local' David Stenhouse.
We wish them fair winds and good luck in the race.
Previous GFS Commodore Martin Sheppard who races with his brother Derek on their Beneteau 45, in a pre race interview stated that their yacht 'Black Sheep, hasn't thrown in the towel yet. There are lots of variables. You have to keep the crew together, the boat together. We're still a long way out. I still feel like a kid before Christmas.'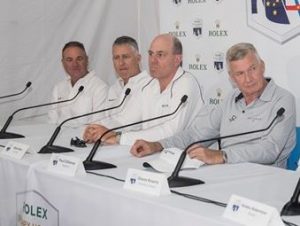 Derek Sheppard, Martin Sheppard, Matt Allen (President Sailing Australia) and Paul Clitheroe iterviewed at the CYCA
Follow the race here
I believe Ralph Pickering and his son Angus are also sailing on Ariel a Beneteau First 40.