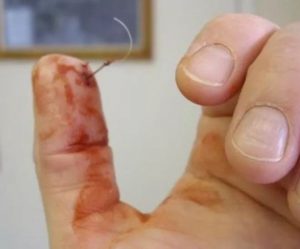 One of our long-standing GFS members was delighted with a fine, cool day to go and work on his yacht engine. He set off from home, unloaded his dinghy from the dinghy rack, dragged it as usual down to the edge of the pontoon, locked the clubhouse, hopped into the dinghy and with his hand pushed the dinghy away from the pontoon.
An unseen fish hook at the end of a fishing line caught in the side of his little finger. As the dinghy moved sideways from the pontoon the hook became embedded further into his finger.  With one oar and one hand he managed to move back closer to the ramp and the only way he had to free his hand was to chew his way through the nylon fishing line.  How he managed to drag the dinghy out of the water on to the concrete ramp, up the deck into the clubhouse and lift it end-on into the dinghy rack is beyond comprehension!
Back home with a length of line hanging from his finger and an embedded hook at the end of the line he was taken to the GP who didn't want to touch it as the finger's nerve was comprised. GP wrote a referral to RNS where he spent the day, X-rays then a number of local injections prior to surgical removal of the hook. He has a return visit to RNS next week.
I would like to suggest that GFS members look carefully as errant casts from fisher-persons on Bay Street Wharf often land and snag on our ramp and pontoon.