A great day to be out on the water and even with the call to sail Course 4 (and 4A for the reds) it was an enjoyable race followed by the regular rendezvous on the Deck of Knowledge to dissect the day's sailing and world events.
Blue Division with a strong fleet powered down the harbour with Flashback and Solitude challenging for the lead. The Etchells again had a strong presence with Eggshells, Forte Forever and Foxy.  Blue Chip again resumed their friendly battle with Eggshells. The 'big' boats – Irukandji, Clovelly Pacific, Gwhizz, StarElan and Lisdillon looked impressive as they made the rounding at Fort Denison.  In the end Flashback made it home a couple of minutes before Solitude with Irukandji and then Eggshells not too far back.  A well-deserved win on handicap for Eggshells was a fitting result with Blue Chip and Solitude next.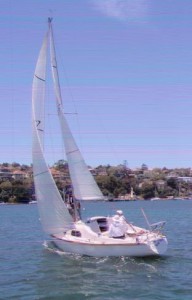 In White division the fleet kept together on the run toward the bridge. Tana made a narrow break and led at the Fort closely pursued by Umzimkulu II and Out of Africa clawing at their transom. The A team, Joka and Paca, kept in close touch for almost the entire race.  Late gybes by Out of Africa and Joka to round Goat Island looked spectacular.  On handicap Joka was successful from the Africans Out of and Umzim.  O of A won the best dressed (????) or not crew award.
In the reds the match race series continued with Flair and Evo.  Flair made a break at the start as Evo made a late headsail change.  Evo clawed back ground all the way to Fort Denison and then Flair pulled away on the run home despite being challenged by all manner of craft including Wild Oats XI, a floating glass box, yahoos who appreciated our spinnaker work on their harbour cruise and a floating post.
I wish all at GFS the compliments of the season – have a safe and joyous Christmas  and a happy New Year.
The Saturday sailing season resumes on Jan 9, 2016.