Again spectacular weather and a good northerly breeze!
Conditions were such that Blue Division sailed course 1 to Manly. The long course stretched the fleet which was amplified by lighter wind conditions near Middle Head. Flashback powered away to be well ahead at the finish. Blue Chip were second on the water and first on handicap after sailing a consistent race with visitor Monkey Business third on the water after a close race with Gwhizz. Once again welcome to Paul Glynn and crew.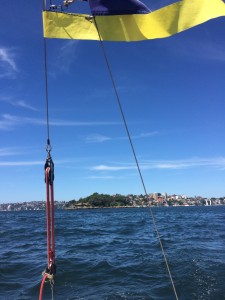 The longer race threw some of the boats finishing mid-fleet into the mix and after the Chippies handicap places were Foxy and Gwhizz.
In White Division a good breeze at the start had them clear Humbug in no time at all and they made good time to the rounding at Neilsen Park. Tana and Out of Africa made a break on the remainder of the fleet and left Joka, Umzimkulu and Paca to vie for positions in what seemed to be a close group.  On water Tana from Out of Twilight and Joka and the handicap mix – Out of, Joka and Tana.
In Red Division Flair battled any number of sea-going craft, the RSYS start boat 'Mischief', the RSYS inshore fleet and a flock of ferries to reach, round and return to and from Clark Island.  Bathed in Sydney sunlight Clark Island looked spectacular as did the huge 'darlek' at Mrs Macquarie's Chair being prepared for Turandot. The spinnaker run home was fast and kept us awake as we sped home and for once it allowed us to go in close to the green buoy at Balls Head and beyond and not be trapped in the normal wind shadow.