Again spectacular autumn weather with a breeze that seemed to come from a variety of directions made for a tricky but enjoyable sail. Added to the need for skippers and crews to watch for wind shifts the antics on various harbour cruise boats added an additional distraction.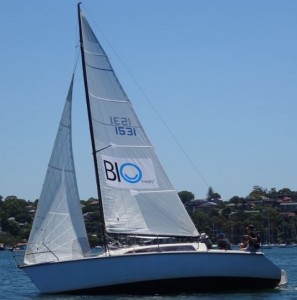 In Blue Division Irukandji were powerful and made perfect use of their asymmetrical kite in the shy conditions as they led the fleet.  Likewise Gwhizz sailed an excellent race and a good dice with Peach Teats Velocity for position on the water. Blue Chip were not far back. StarElan, Foxy and Speedwell sailed as a bunch and seemingly had a good race.  Handicap results were Irukandji, Gwhizz and StarElan.
The Reds had a good race where each yacht had a turn at leading on the water.  Paca were powerful and made a break on the others, Umzimkulu lost a bit of ground shaking out their reef and Flair managed to read the wind shifts so well that they found every hole around the course. A rare spinnaker run through Humbug allowed Flair to make up enough distance to win on handicap from Paca and Umzimkulu.
Next week is the Easter break and Saturday sailing resumes on April 2.