Audits will be conducted from 0900 hours (until 1200 hours).  It is a race day for Saturday Series yachts.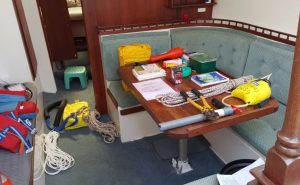 Please have the audit form completed and the equipment to be checked laid out.
Fire extinguishers can be checked at the club – $10 donation to YOTS.
Download a copy of the Equipment Audit form, GFS Sailing Instructions and GFS Safety Card from the GFS Yachts Page and have either an electronic or hard copy of the Racing Rules of Sailing. These are on the Yachts Page or click here.
Have a proof of insurance document available to be sighted by the auditor.
The required documents can be located on the Yachts page.
Please note that the house immediately above the clubhouse (#19) is due to be auctioned on site at 1045 hours on Saturday. I would expect that traffic in Bay Street will be just peachy!