The 10th Anniversary Sail Port Stephens race week incorporating the Commodores Cup, NSW IRC Championships, Port Stephens Trophy (PHS), Australian Sports Boat Nationals and Super 12 NSW Championships runs from 3 – 9 April. The regatta is hosted by the Corlette Point Sailing Club.
Good luck to the following GFS skippers, yachts and crew competing in this year's regatta contesting the Commodores Cup series. In Division 1 David Edmiston and crew – 7130 Passion X, in Division 2 Michael Groves and crew – 7034 Agrovation, Mark Cole and crew – 5201 All our Girls and Graeme Davey and Crew – 3425 Gwhizz. We wish them all well.
As a prequel to the event at Port Stephens a Saturday race from Pittwater to Newcastle took place. On Sunday a race in a 20-knot south easterly breeze propelled a record fleet in record time from Newcastle to Port Stephens. 42 yachts crowded the Newcastle Cruising Yacht Club start line on a grey, windy harbour and then enjoyed a 22 mile two-sail dash across Stockton Bight in steep 2 – 3 metre seas.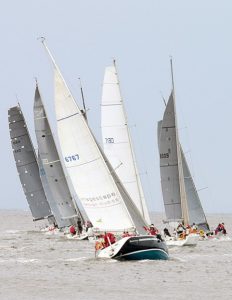 7130 Passion X in the crowd at the start of the Newcastle – Port Stephens Race.
Follow the series results at https://www.sailportstephens.com.au/
Congratulations to Graeme Davey and the Gwhizz crew for placing third in the Division 2 Commodores Cup Series.
In Race 1 of the Performance Crusing Series both Passion X and Gwhizz were third in their respective divisions 1 and 2. Well done. Agrovation was sixth in Division 2.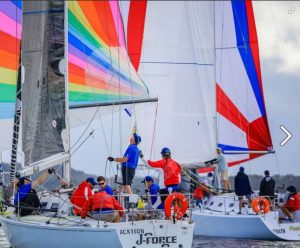 J Force and Passion X in a Commodores Cup Race