At last clear skies and a breeze that arrived just before the start saw the fleet of 18 yachts set off from the club to their assigned rounding marks on the other side of the Harbour Bridge. Gusts of up to 18 kts kept skippers and crews alert. At least the harbour was relatively clear.
In Blue Division 1 results are provisional as it seems Soundtrack was lost somewhere in the computer.  Irukandji dominated the race and was back ahead of Flashback and the ever improving StarElan at the finish.  Handicap results to Clovelly Pacific from Irukandji and StarElan. Series to Blue Chip then Tana and then Flashback.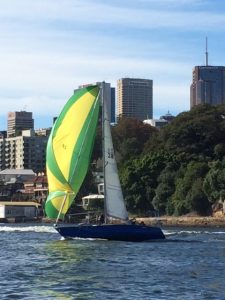 In White Division 2, Pistol Dawn was similarly impressive and established a lead. With Forte Forever in close pursuit they both established a break on the others. Foxy made it back behind them at the finish. Handicap results to Forte from Foxy and then Pistol. Series results to Eggshells and Forte Forever equal first and then Chloe.
In Red Division 2 Wind Charmer dominated the race from the start and was only momentarily caught in the disturbed conditions near the bridge. Paca again sailed well as did Barubi. The spinnaker or not run/reach home (see Umzimkulu II pictured behaving like a pendulum) allowed the 'back markers' to catch up lost ground. At the end, Wind Charma were back ahead of Paca and Joka and handicap results went to Flair from Wind Charmer and then Barubi.  Series saw a well-deserved win to Wind Charmer with Umzimkulu II and Flair equal second.