Start from the deck and Course 45. The uncertain prediction of late storms didn't deter the fleet. With a new start group to replace the 'normal' crew and the addition of Harvey's dulcet tones there was no possibility of getting the timing wrong. It was much appreciated, as was Harvey's attempt to replace the BOM at the end of the race with a rain arrival time –which proved pretty accurate.
The Mirror fleet from Hunters Hill Sailing club made for a colourful sight on the water and a hazard to navigation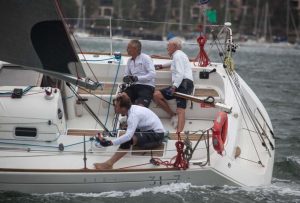 In Blue Division a slow start through Humbug saw Blue Chip establish a commanding lead over the Etchells. They provided a master class in spinnaker handling in the tricky variable conditions to be ahead at the finish. The Etchells group kept close all finishing within a minute. Eggshells grabbed the lead through the computer with Chloe third.
In Green Division the wind at the start resulted in a mixed bag of good and bad fortune as yachts attempted to reach and then pass Onions point. Gwhizz and Flair perhaps had the best exit.  As the race progressed Gwhizz, Umzimkulu, Peachy Teats Velocity (Pictured, courtesy of the James Kearney Twilight collection – see the link above) and Paca had a close tilt for the lead. Speedwell caught up after a slow start to be up with the leaders. Umzimkulu recorded a well-deserved win both on the water and on handicap with Gwhizz back ahead of Speedwell. Minor handicap placings to Paca and Flair.
Please note: Autumn Race 3 will also be a Clubhouse start.