Wet and grey conditions ensured only the hardiest souls ventured out to contest Autumn Race 3. Course 35 added a few challenges with varying wind conditions around the course.

Sincere thanks to Aaron and Josh who have stepped in to effectively manage the start and finish duties over the last two weeks in the absence of the regular crew who will be back next week. Starts will resume from Pegasus.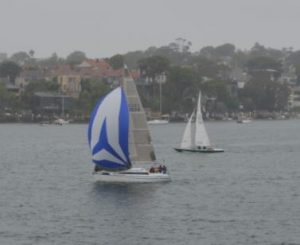 In Blue Division 1 Irukandji made a brilliant start and established a commanding lead early.  Foxy and Blue Chip (pictured), Forte Forever and Eggshells were tenacious in bridging the gap which narrowed throughout the course of the race. At the finish Irukandji were back ahead of Foxy and Forte. On handicap Foxy pipped Irukandji (pictured below) with Eggshells third.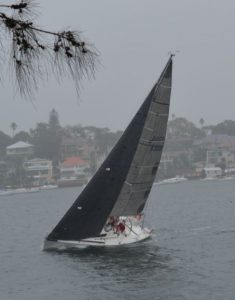 In Green Division 2 Hasta La Vista said bye bye to the remainder of the fleet leaving them in pursuit for the entire journey. Umzimkulu, Joka, Paca and Speedwell kept close and Gwhizz made every effort to catch Hasta.  At the end Hasta from Gwhizz and Clovelly Pacific.  Tana was lost momentarily in the computer.  On handicap Hasta La Vista, Umzimkulu and Joka were well deserved winners and place getters.