Well the weather predictions again proved inaccurate. Originally expecting winds around 10kts a well known wind site actually changed their prediction after the event to be upwards of 25kts. Seabreeze shows the wind recorded yesterday.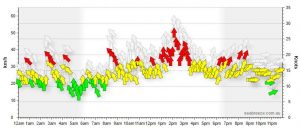 Click on the image to enlarge (Seabreeze)
Given the unstable weather it was decided to start from the club and Course 63 proved very well suited to the actual wind direction and speed.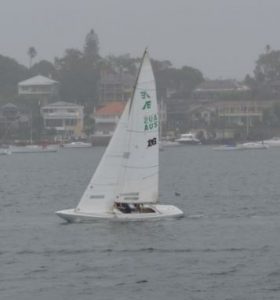 In Blue Division 1 a depleted fleet met the challenge, initially exiting the variable wind directions in Humbug and then the strong gusts which seemed to materialise from nowhere. Foxy sailed well to lead the fleet leaving Eggshells (pictured) and Blue Chip to scrap it out for the minor places on the water. Blue Chip again showed their ability to run under spinnaker in the strong conditions. Scratch and Handicap results were Foxy, Eggshells and Blue Chip.
In Green Division 2 Hasta La Vista led the fleet for the entire race leaving the others to sail as a group for a while until the wind came in and StarElan was able to break away. With gusts upward of 30kts between Longnose Point and Goat Island Flair and Paca were in survival mode. At the end Hasta was well clear of StarElan and Paca. Handicap result to Hasta from Flair and StarElan.