At last sunny skies and a light relatively consistent breeze saw the fleet heading to their respective rounding marks at Nielsen Park, Shark and Clark Islands. Luckily most of the fleet avoided the tanker's departure from Gore Cove.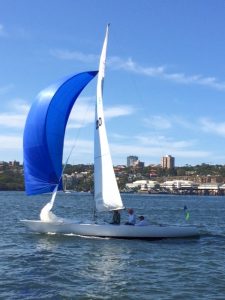 Welcome to Mark Donnelley and crew in Sirocco an Elan 37 for their first Down Harbour race. In the Blue Division race, Flashback were back well ahead of Blue Chip and Hasta La Vista. On Handicap Hasta from Gwhizz and Blue Chip.
In White Forte Forever without kite made it back ahead of Eggshells (pictured) and Speedwell with Speedwell just pipping Eggshells to be second on handicap.
In Red Umzimkulu II powered away to lead the fleet all the way. Paca, Wind Charmer and Joka challenged until Wind Charmer broke away under kite to be back a few minutes after Umzimkulu with Joka a few minutes after.  Handicap results to Umzimkulu II from Wind Charmer and Flair.