Sydney's weather turned it on again! Wind, rain, sun, no wind, more wind and sadly many skippers and crews were disappointed as they were dressed as if they also expected snow. Anyway it's a healthy lifestyle to venture out into the elements, hardy souls as we are.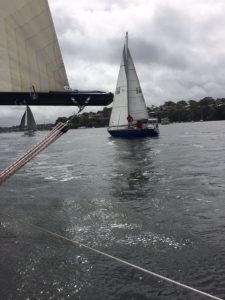 In Blue Division 1 Irukandji sailed very quickly to minimise their exposure to the changing conditions leaving Foxy, Blue Chip and Eggshells to scrap it out. Eggshells finally pulled the pin as they had a malfunction causing them to lose their main source of shelter. Foxy Four-up made it back behind Irukandji and Blue Chip returned safely after them. Foxy were successful in negotiating the Top Yacht system ahead of Irukandji and Blue Chip.
In Red Division 2 Flair won the start; however, the race is over a longer distance. Hasta La Vista powered away and were ultimately caught by Gwizz. Clovelly Pacific well suited to the conditions also powered their way through the fleet to ultimately return after the Gwizz – Hasta combination. Paca and Umzimkulu again had a good race. On handicap a good win to Paca from Hasta and Flaira.
A reminder that Course 17 requires yachts to leave Cockatoo Island to Starboard (marked by *** on the course sheet) on the way to the finish from Snapper Island.