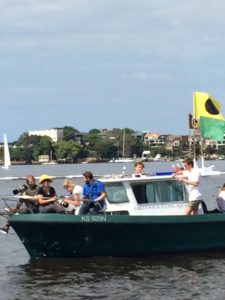 The ceaseless clicks of the gathered paparazzi (the Cannon Camera Group) heralded the start of Autumn Race 6 as the fleet headed off on Course 18A. The day remained dry and the wind attempted to last, albeit for a few bits especially at the end. Thankfully the finish line was set in the mouth of Humbug rather than at the club.
Well done starters!
In Division 1 Pistol Dawn returned to battle with the Etchells and this resulted in a close on water race with Forte Forever. Foxy gained the superiority over the others and for once the Etchells group had the ascendency over Blue Chip. The published results are in need of scrutiny and hopefully the camera group can provide evidence of the actual finish order.  Anyway it looks like the placings will be shared by Forte, Foxy and Chloe.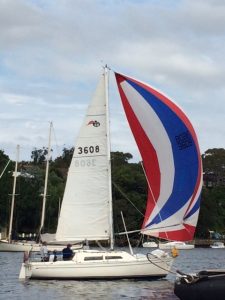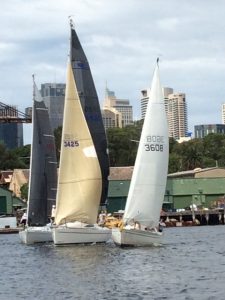 In Division 2 the fleet remained as a bunch in the early stages of the race. We also welcomed Colin Legg and crew in the Thunderbird 26 'Snowgoose' for their first GFS Saturday series race. It was great to see the use of spinnakers making for a very colourful day on the water. (But where was the camera group?) Hasta La Vista again made a break on the fleet and were pursued by Gwhizz and StarElan. This left the rest of the fleet to remain close until the vagaries of the wind stretched distances between them.  Paca and Joka (pictured) made up much ground. The near windless run to the finish tested tacking ability and patience.  By the end Gwhizz had caught Hasta with StarElan third. On handicap Joka from Umzimkulu II and Paca.